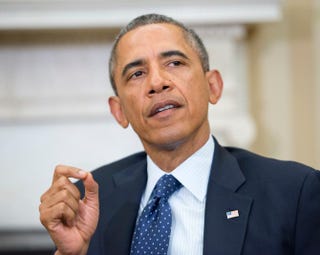 President Barack Obama is sending one clear message to Congress: He wants less partisan fighting and more legislating.
On Tuesday, Obama said he was happy that Congress passed the $1 trillion spending bill that had bipartisan support, but warned lawmakers that he was prepared to act alone if they intended to obstruct his second-term agenda, the Raw Story reports.
"I'm very pleased to see the House and the Senate agreed to a budget," Obama said of the bill that funds the federal government until September.
However, he also called out the lawmakers to act on his favored agenda items, which include extending insurance for the long-term unemployed and immigration reform.
"We're not just going to wait for legislation," the president said. "I've got a pen, and I've got a phone. I can use that pen to sign executive orders and take executive action and administrative actions that move the ball forward."
Read more at the Raw Story.