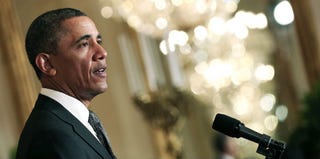 On Saturday night, President Obama rubbed shoulders with Washington's elite, joking that if his remarks weren't funny, it was because he'd lost some key players thanks to the sequester, reports CNN.
This is the second time Obama has attended the dinner as president but the first since 2011.

"As you know, I last attended the Gridiron dinner two years ago. Back then, I addressed a number of topics - a dysfunctional Congress, a looming budget crisis, complaints that I don't spend enough time with the press. It's funny, it seems like it was just yesterday," Obama said.

This year, the president said the jokes were a little harder to come by because of forced budget cuts and also talked of the notoriously long dinner.

"My joke writers have been placed on furlough," Obama said. "Of course there is one thing in Washington that didn't get cut: The length of this dinner. Yet more proof that the sequester makes no sense."
Read more at CNN.