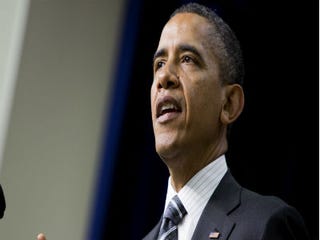 As the Election Day 2012 draws nearer the White House is leaving no stone unturned in courting potential supporters. That includes buying up key Google AdWords, reports the Washington Post:
The president's campaign has bought Google advertising space next to all sorts of searches, including "Warren Buffett," "Obama singing," "Obama birthday" and, for basketball fans, "Obama bracket."
For example, type in the phrase "immigration reform" and the president's re-election campaign, in the form of barackoabama.com. may pop up next to the results.
While Republican hopefuls Mitt Romney and Rick Santorum are using similar approaches, the Post reports President Obama has "spent five times more on online ads — jumping from $2.3 million to $12.3 million — than at this point four years ago, when he was running against Hillary Rodham Clinton for the Democratic nomination."
Read more at the Washington Post.

Like The Root on Facebook. Follow us on Twitter.