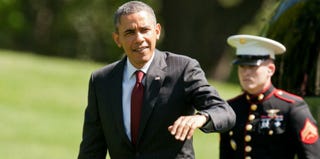 The Washington Post's Eugene Robinson gives perspective on the Associated Press scandal.
The Obama administration has no business rummaging through journalists' phone records, perusing their e-mails and tracking their movements in an attempt to keep them from gathering news. This heavy-handed business isn't chilling, it's just plain cold.

It also may well be unconstitutional. In my reading, the First Amendment prohibition against "abridging the freedom … of the press" should rule out secretly obtaining two months' worth of the personal and professional phone records of Associated Press reporters and editors, including calls to and from the main AP phone number at the House press gallery in the Capitol. Yet this is what the Justice Department did.

The unwarranted snooping, which was revealed last week, would be troubling enough if it were an isolated incident. But it is part of a pattern that threatens to redefine investigative reporting as criminal behavior.

The Post reported Monday that the Justice Department secretly obtained phone and e-mail records for Fox News reporter James Rosen, and that the FBI even tracked his movements in and out of the main State Department building.
Read Eugene Robinson's entire piece at the Washington Post.
The Root aims to foster and advance conversations about issues relevant to the black Diaspora by presenting a variety of opinions from all perspectives, whether or not those opinions are shared by our editorial staff.