New York Police Outreach Becomes PR Disaster
"An exercise in social media outreach turned #epicfail Tuesday when users flooded the Twittersphere with some of the NYPD's most infamous moments of brutality, the Daily News in New York reported.
"The NYPD, through its Twitter page, innocuously asked people on to post pictures of themselves interacting with New York's Finest — complete with the hashtag myNYPD.
"But instead of happy pictures of cops posing with tourists and helping out locals, Twitter erupted with hundreds of photos of police violence, including Occupy Wall Street arrests and the 84-year-old man who was bloodied for jaywalking on the Upper West Side earlier this year. . . ."
Sudden Change of Editors at Ebony
Jet's Mitzi Miller Replaces Amy DuBois Barnett
In sudden moves said to take the staff by surprise, Amy DuBois Barnett stepped down as editor-in-chief of Ebony magazine Tuesday, and Johnson Publishing Co. replaced her with Mitzi Miller, editor of Ebony's sister publication, the pocket-sized Jet magazine.
G/O Media may get a commission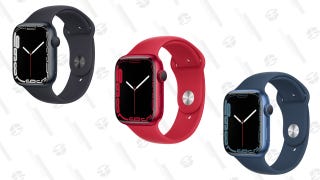 Up To $45 Off
Apple Watch Series 7
Barnett's departure was announced in the last paragraph of a news release touting Miller's appointment that said simply, "Miller succeeds Amy DuBois Barnett, who is leaving EBONY after serving as editor-in-chief since 2010."
Desirée Rogers, CEO of Johnson Publishing, told Journal-isms by telephone Wednesday, "Amy has gone on to pursue some other things important to her." As for the missing customary praise for the departing editor, "You will see all of that in the June issue," Barnett's last, Rogers said.
Ebony will remain a lifestyle magazine, the CEO said, but "the one thing we will see are more stories geared toward an audience both male and female."
With her background in women's magazines, Barnett gave Ebony more of a feminine outlook. The May "Black Family Special," now on newsstands, features such cover lines as "Be the Boss! 7 Step Career Makeover Guide," "Single Moms, Sex and Dating: How to deal after divorce," "How to Raise successful, healthy, confident kids" and "Fighting Stand Your Ground: The Mothers of Trayvon and Jordan Speak Out."
Barnett was deputy editor-in-chief of Harper's Bazaar magazine and former editor of Honey when she was named to the job, succeeding Harriette Cole, the magazine's creative director and acting editor-in-chief. That announcement was accompanied by words of praise for Cole from Linda Johnson Rice, chairman and CEO of Johnson Publishing. Cole subsequently left the publication.
Barnett told Journal-isms by telephone Wednesday that she was departing "to take advantage of all the exciting opportunities. Four years is a long time" to edit a magazine and it was "time for me to move on."
She said she had been "developing an online content platform around the mission and message of the advice-for-women book that I wrote. I have a passion for developing content for women. I am really excited about teaching, too."
In 2007, Barnett published "Get Yours! The Girlfriend's Guide To Having Everything You Ever Dreamed of And More." She is also an adjunct professor of management and organizations at the Kellogg School of Management at Northwestern University, and said, "I'm teaching my first-ever business school class in May at Kellogg."
Barnett said her long-term goal was to enter academia. "I come from a family of academics."
Asked whether she enjoyed her tenure, Barnett replied, "Of course. Ebony is an iconic brand. African Americans absolutely love Ebony, for what it has historically meant for us." She said she was "very, very honored and excited" to have supervised the first redesign of the publication in 60 years. Barnett said she might have more to say later.
Rogers and Barnett separately denied any connection between Barnett's departure and the recent exit of Crystal Montgomery, executive assistant to the editor-in-chief. Montgomery left for "personal reasons," Rogers said.
Miller had been editor-in-chief of Jet since May 2011. Wendy Wilson, the current managing editor of Jet magazine, is to oversee Jet's day-to-day operations.
A weekly for most of its tenure, Jet now publishes every three weeks. However, the Jet website has been "very creative" under Kyra Kyles, managing editor of jetmag.com, and is a growth area for the company, Rogers said.
Jet followed closely the case of 17-year-old Jordan Davis, the Florida teen slain by Michael Dunn, who is white, after Dunn opened fire on a car of unarmed black teenagers during an argument over loud rap music at a gas station. Dunn was found guilty of three counts of attempted murder, but the jury deadlocked on the most serious charge, first-degree murder in the killing of Davis. The judge declared a mistrial.
"Prior to joining JET, Miller served as the editor-in-chief of SET Magazine," the news release added. "A former associate editor at JANE Magazine, she began her editorial career in 2001 at HONEY magazine. Miller holds a Bachelor of Arts degree from Florida A&M University and currently sits on the Jack & Jill of America Foundation Board. Her recent accolades include recognition among The Root 100 honorees for 2013, Florida A&M University's 125 Outstanding Alumni of the Quasquicentennial, and Crain's Chicago Business Magazine's 2011 40 Under 40 roster."
With an average circulation of 1,280,350 for the six months ending Dec. 31, Ebony is the nation's largest selling black-oriented magazine. Essence is in second place, with 1,060,774.
For 2013, Ebony's advertising dollars were up 7 percent over 2012, with ad pages down 3 percent, according to the Publishers Information Bureau.
Rogers said the company considers the magazine "underpriced" to advertisers, so it is boosting the page rate.
"Why Can't Jailed People of Color Be Three Dimensional?"
Activists seeking to reform the criminal justice system view the media as "a source of tremendous frustration," according to Sherrilyn A. Ifill, president and director-counsel of the NAACP Legal Defense and Educational Fund, Inc.
"Very often we've had an oppositional relationship. There's a lot of distrust," she said.
Ifill was speaking at a dinner meeting Tuesday of the Journalists Roundtable, an informal group of Washington, D.C., journalists, as did Bill Keller, the former executive editor of the New York Times who is editing a startup website on the criminal justice system called the Marshall Project. "Our name is an homage to Supreme Court justice and crusading civil rights attorney Thurgood Marshall," its website says. Ifill holds a position once held by Marshall.
Ifill appealed for the media to present people of color, especially those caught up in the criminal justice system, as three-dimensional figures, as are fictional white criminals such as those in "The Godfather" movies or television's "The Sopranos." "Too often race and class block that recognition," said Ifill, who is a cousin of PBS anchor Gwen Ifill.
"Most of us feel poorly served by the conversation of race in the mainstream media. . . . What is it that stops the ability to lift up stories that have drama, humanity. . . all the things that make for a great story?"
And yet, Ifill said, the civil rights and other activist groups have fallen behind conservative groups in waging and winning battles over language.
Speaking on the day the U.S. Supreme Court ruled 6-2 against affirmative action in a case from Michigan, Ifill said that she recalled when "affirmative action wasn't a slur" and "reverse discrimination" was considered a term invented by conservatives to portray whites as victims. Now, she said, she can point to a court decision in which a large chunk is named "reverse discrimination," she said.
"Part of our job is tending to the narrative," Ifill added. She said she no longer uses "affirmative action" and that those who are fighting for the voting rights of freed prisoners should avoid the word "felon."
Keller was asked why more coverage isn't devoted to criminal justice issues. He replied that "concern for people in prison has been framed as a liberal bleeding-heart issue," that prison systems are "very hard to penetrate" for journalists and that such stories are "not appealing to people who buy newspapers."
He cited the Pulitzer Prize-winning book "Devil in the Grove: Thurgood Marshall, the Groveland Boys, and the Dawn of a New America," by Gilbert King, about a 1949 Florida case in which black men were falsely accused of rape, a white mob attacked black residents and a racist sheriff shot and killed one of the black residents, a citrus worker, and wounded a second on the way to a hearing. Most "people didn't want to know" about the abuses, Keller said.
He suggested that prison stories be presented in the context of public safety; the offenders will one day return to the streets.
While the Marshall Project will have no ideological point of view, "Our aim is to raise the profile of these issues so every candidate will be expected to have a position on these issues," Keller said.
Ifill had no shortage of examples of what she considered egregious media treatment of criminal justice issues involving race. There was media irresponsibility in the case of the Central Park Five in New York, outlined in this column last April, as well as a 2012 case in which the Supreme Court upheld the strip search of an innocent African American driver.
According to Adam Liptak, writing then for the New York Times, the case "arose from the arrest of Albert W. Florence in New Jersey in 2005. Mr. Florence was in the passenger seat of his BMW when a state trooper pulled his wife, April, over for speeding. A records search revealed an outstanding warrant for Mr. Florence's arrest based on an unpaid fine. (The information was wrong; the fine had been paid.)
"Mr. Florence was held for a week in jails in Burlington and Essex Counties, and he was strip-searched in each. There is some dispute about the details, but general agreement that he was made to stand naked in front of a guard who required him to move intimate parts of his body. The guards did not touch him.
" 'Turn around,' Mr. Florence, in an interview last year, recalled being told by jail officials. 'Squat and cough. Spread your cheeks.'
" 'I consider myself a man's man,' said Mr. Florence, a finance executive for a car dealership. 'Six-three. Big guy. It was humiliating. It made me feel less than a man.' . . ."
That story "lasted only 48 hours" in the media, Ifill said, but was deserving of greater outrage and debate.
She cited another case of a juvenile whose status was changed to adult within 24 hours. It was a case of "adults reacting to the fear [of black boys]. The first reaction is the harshest thing you can do. I don't remember a single story questioning" the youth's change in status.
Part of the solution must come from "the top," she said, recalling how Hollywood was pressured during World War II to produce films aiding the war effort.
She credited such television shows as "Will and Grace" with helping to change public opinion toward gays and gay rights. But issues of criminal justice aren't granted such visibility. "If a whistleblower told everything he knew about the criminal justice system," comparing that action to Edward Snowden's on national security leaks, "I don't know that this person would be . . . considered a hero."
Ifill said she raised her concerns about media treatment of criminal justice issues at a recent White House meeting. What was the response there? "The meeting was off the record," she said.
Ifill also urged more attention to voting rights issues at the most local level, where voter suppression is attracting little media attention.
"This is a measure of who we are as a society, and it is under threat, simply for the purpose of trying to hold on to power," Ifill said of the suppression efforts. "I can't understand how anybody can think of this as a niche issue."
George Curry, National Newspaper Publishers Association: Acceptance by 8 Ivies doesn't remove race stigma (April 8)

Bruce Drake, Pew Research Center: Public strongly backs affirmative action programs on campus

Sherrilyn Ifill, Stuart Taylor and Jeffrey Rosen with Diane Rehm, "The Diane Rehm Show," National Public Radio: The Supreme Court Upholds Michigan's Affirmative Action Ban

Derrick Z. Jackson, Boston Globe: Supreme Court upholds tyranny of the majority

Joyce King, USA Today: Compensate people wrongfully imprisoned (March 20)

Joyce King with Nicole Franklin, YouTube: An EPIPHANY Conversation: Executed Before Exonerated (April 7)

NAACP Legal Defense and Education Fund criminal justice cases

Allison Kopicki, New York Times: Answers on Affirmative Action Depend on How You Pose the Question

Tamar Lewin, New York Times: Colleges Seek New Paths to Diversity After Court Ruling

New York Times: How Minorities Have Fared in States With Affirmative Action Bans

Clarence Page, Chicago Tribune: The price of being black and bright in 2014 (April 9)

Katherine Seligman, Sacramento Bee: Paper produced by San Quentin inmates looking to grow
Poynter's Stephen Buckley to Run Youth Program in Zambia
"Stephen Buckley, an award-winning reporter who has served as dean of the faculty at the Poynter Institute for four years, is leaving to run a youth leadership initiative for orphans in Zambia, Poynter president Tim Franklin announced Tuesday," the Tampa Bay (Fla.) Times reported.
"The move, Buckley wrote in a note to the faculty, 'isn't so much about my leaving the institute as it is about my chasing a wonderful opportunity. The chance to build a leadership development institute for young people in one of the world's neediest nations was simply too enticing.'
"Buckley first set foot on the campus of Poynter, a school for journalists that owns the Tampa Bay Times, at age 13, when as a middle school student he talked his way into a summer journalism program intended for high schoolers.
"A graduate of Duke University, Buckley worked as a metro reporter and foreign correspondent for the Washington Post, at one point serving as its Africa bureau chief.
"He joined the St. Petersburg Times, now the Tampa Bay Times, as a national reporter in 2001. He became managing editor in 2005, then served as publisher of the paper's website, tampabay.com, before moving to Poynter in 2010. He also serves on the board of directors of Times Publishing Co. . . ."
Lupita Nyong'o Is People's "Most Beautiful Person"
"Lupita Nyong'o is People's Most Beautiful Person for 2014, the magazine revealed Wednesday morning on TODAY," Kurt Schlosser reported for NBC's "Today" show. The Oscar winner with the perfect smile and the style to match beams from a cover that promises 'her inspiring story.' "
"For the 31-year-old Mexican-born Kenyan actress, it's a story that largely came to light during awards season as she collected trophies at every turn for her role in the film "12 Years a Slave." Along the way she turned heads on all the red carpets upon which she set foot, as her poise and beauty landed her on best-dressed lists and countless other magazine covers. . . ."
Karen Grigsby Bates, NPR "Code Switch": Why Lupita Nyong'o's 'People' Cover Is So Significant

Mary C. Curtis, Washington Post: Honoring beauty of Lupita Nyong'o is fine — but what's next for her and other 'dark girls' (April 24)
Avis Thomas-Lester Leaving Afro-American Papers
Avis Thomas-Lester, who became executive editor of the Afro-American newspapers in Washington, Baltimore and suburban Prince George's County, Md., in 2012 after taking a buyout at the Washington Post, is leaving the Afro, she messaged Journal-isms on Wednesday.
"I resigned after two years," she wrote. "I had planned to do two years before moving on to something else. I spent 22 years at The Washington Post, some of it as a part-time reporter while my husband and I were raising our son.
"The AFRO was only my third job. I enjoyed it, but it was time to do some other things that have come my way. I am doing some media work with clients and working on a book that I've been wanting to write for years. It was a good ride at the AFRO. I had always wanted to work in the Black Press and I am grateful to Mr. Oliver for the opportunity to do so," referring to Publisher Jake Oliver.
"I am proud of the contributions I made while there, like redesigning the three papers; hiring and training a team of promising young journalists as well as bringing on more experienced writers and reporters as stringers to offer original perspectives and a depth of knowledge to tell stories about African Americans in our region; and most importantly, helping to increase online and social media traffic — the AFRO now has more than 220,000 likes on Facebook — by focusing on producing more original content, stories that you wouldn't see anywhere else. . . ."
People en Español Insert Features English-Language Content
"People en Español has spent the last 17 years covering Hispanic and general-interest subjects, almost always entirely in Spanish," Michael Sebastian reported Tuesday for adage.com. "It ran a bilingual issue in 2002, but hasn't returned to English since, according to the magazine. Now the June issue will break from tradition with a significant chunk of English-language content.
"It arrives as part of Chica, an insert with six pages of editorial content and six pages of ads from L'Oreal's Maybelline New York and Garnier brands. L'Oreal paid in the mid-six figures for the ads, according to a person familiar with the deal. . . ."
Zoraida Sambolin Returns to Chicago's WMAQ as Co-Anchor
"NBC-owned WMAQ Chicago (DMA 3) today named Zoraida Sambolin co-anchor of NBC 5 News Today," TVNewsCheck reported Wednesday.
"Sambolin has spent the past two years at CNN where she anchored the network's Early Start. While at CNN, Sambolin covered a number of big and breaking stories, including the Sandy Hook shootings, the Cleveland kidnapping and the bombings at the Boston Marathon.
"Sambolin returns to WMAQ where she worked from 2002 to 2011. She began as a weekend anchor, and was named co-anchor of the weekday morning newscasts in 2007. Prior to WMAQ, she hosted programs on the Telemundo and PBS stations in Chicago, and was once director of broadcasting for the Chicago City Colleges. . . ."
Follow Richard Prince on Twitter.
Facebook users: Like "Richard Prince's Journal-isms" on Facebook.
Journal-isms is published on the site of the Maynard Institute for Journalism Education (mije.org). Reprinted on The Root by permission.
Like The Root on Facebook. Follow us on Twitter.