An off-duty New York City police officer was reportedly captured on video encouraging a toddler to use the n-word.

According to the New York Daily News, Officer Delina Giraldo apparently recorded a video of herself encouraging her 2-year-old niece to use the racist word.
In an Instagram video obtained by the Daily News, Giraldo asked, "She said 'nigga'? Say it again. Say it again," Giraldo said, and then laughed.
In a series of several Instagram clips posted in 2014, obtained by the Daily News, Giraldo argued, "If somebody thinks or feels that I shouldn't be using the word 'nigga,' but for real ... it's not that serious.
"We're fucking minorities and we all get treated the same," she claimed. "I get racial shit blurted at me, too. We live in the hood together. I can understand how you can feel it's derogatory, but everyone is entitled to their opinion. You can have yours. I'll have mine."
G/O Media may get a commission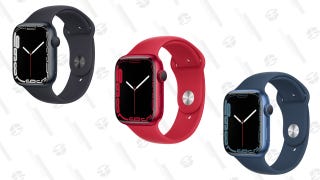 Up To $45 Off
Apple Watch Series 7
Giraldo's lawyer, Eric Sanders, has stated that the videos are more than 10 years old, made before Giraldo, now 29, became an NYPD officer, and that Giraldo's ex-boyfriend, Officer Michael Martinez, with whom she is in a legal battle, is using the videos to get revenge. Giraldo has reportedly made claims of domestic violence against Martinez, which he says are false.
"All this was from a cop abuser that's just trying to get back at her," Sanders said. "Now she's developing the strength to fight back. There will be a lawsuit against this cop and the Police Department for this conduct."
According to the NYPD Patrol Guide, racist and offensive words are considered "prohibited conduct," which applies to both on-duty and off-duty cops.
Read more at the New York Daily News.