A detective with the New York City Police Department has been arrested and charged after police say he went around peering in bedroom windows with a flashlight and then exposing himself to those inside, and three of those alleged victims are under the age of 16.
NBC New York reports that Robert Francis, a 17-year veteran of the NYPD, was arrested and charged with four incidents dating back to February in Nassau County, Long Island. Police announced the charges Monday.
Rockville Centre Police Commissioner Charles Gennario said that all of Francis' alleged victims went to the same high school.
According to NBC, Francis is charged with taking his flashlight, creeping in driveways and backyards, shining his light in the window to get the attention of his victims, and then exposing himself to them and masturbating.
"He was targeting women," Gennario said.
Francis lives in the Springfield Gardens section of Queens and worked at the 71st Precinct in the Crown Heights section of Brooklyn. He has been suspended without pay, NBC reports.
G/O Media may get a commission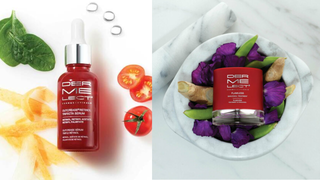 Save $19
Retinol Renewal Kit
According to police, Francis was accused of committing a lewd act on Long Island, and he was arrested Sunday at 2:30 a.m. in Rockville Centre, just a few blocks away from the scene of the crime.
From Newsday:
After the first two incidents, police questioned a registered sex offender, who then moved out of the village, and because the incidents stopped, cops thought they had their guy, Gennario said. They also increased patrols.

But after the Friday incident, police knew the suspect was still at large, and on Saturday a man was spotted in the driveway of a Sherman Avenue home, and Gennario said police believe he was casing for a house to do it again.

"We thought we were free and clear so it was a shock to us when this incident occurred on Friday night," Gennario said.

A police officer investigated the report of a suspicious person in the Sherman Avenue driveway and began questioning Francis, who identified himself as a police officer. Under questioning at the Rockville Centre police station, Francis confessed, Gennario said.
According to NBC, investigators are trying to figure out when and where else Francis may have committed the same crime.
Newsday reports that Francis is due in court April 17.
Read more at NBC New York and Newsday.