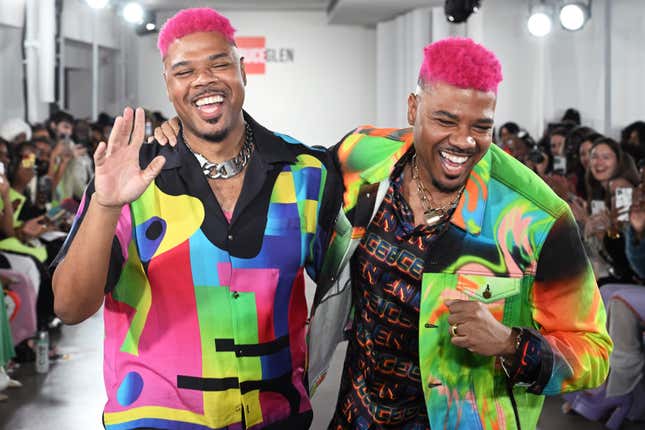 "The Fashion Preachers" lived up to their name and brought the familial experience of Sunday service to the esteemed runways of New York Fashion Week. In addition to designers Bruce and Glen Proctor being identical twins, they're also the founders/ministers of "The Church." Their impressive Fall/Winter 2023 collection "The Sermon" debuted Monday evening in conjunction with Runwayx By Afterpay at Spring Studios.
'I Stay Coogi Down': Remembering the Fashion That Shaped Black Culture
The dynamic duo's break into the industry began with adversity when they were forced to drop out of school because of financial difficulties. However, grace prevailed in their favor and the pair relaunched BruceGlen in 2019 with a focus on accessories. The brand has since become most recognized for its vividly colored bags and clothing collections, and is now producing sustainable clothing in partnership with Resonance Brands.
White Gloves and Church Fans
With it being Black History Month, it's worth acknowledging that a notorious staple in Black culture is the collectively-shared experience of attending church services. BruceGlen catered to the significance of this tradition by integrating key aspects Black folks have loved and embraced since childhood (like being woken up at 7 am to make it to the 9 am service). It was such a nostalgic pleasure to be greeted by beautiful ladies wearing all-white outfits from the hats down to gloves ushering me to my seat.
G/O Media may get a commission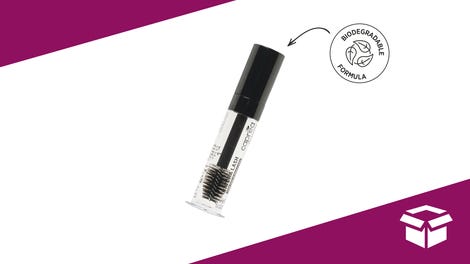 It's $8
20% Off Lash + Eyebrow Serum 2.0 - Caprea Beauty
If you were anything like me as a child, you lived for and basically had a collection of hand fans that resided in the back of the pews that helped you stay entertained through as many services as your mama wanted to stay for. Also, "The Sermon" FW'23 collection artwork was displayed on the event's hand fans that each guest in attendance received. The icing on the cake that solidified the true Black church experience was the basket of mints and hard candies offered by the ushers to the guest prior to the show.
Melanin Meets Magic
At that point, I was sold on the whole experience even before it even started. The show opened up with a soulful performance by gospel singer and Root 100 performer Naomi Raine, who was later accompanied by a choir and tambourines that continued to set the tone–I told y'all BruceGlen took us to church, chile! The looks were vibrant, colorful, eye-catching, and above all paired together in a way that was complimentary and tasteful. The clothes represented a powerful array of colors, patterns, and textures.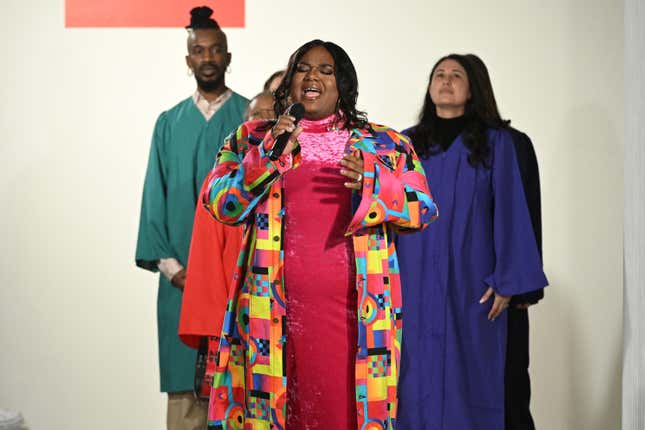 The message of "The Sermon" collection stated that there would be "stained glass geo prints with color gradients and watercolor flowers. Bright crush velvets and loads of layered gradient printed denim. Glittery hits of divine shine. And patent leather surprises that provide deep reflection."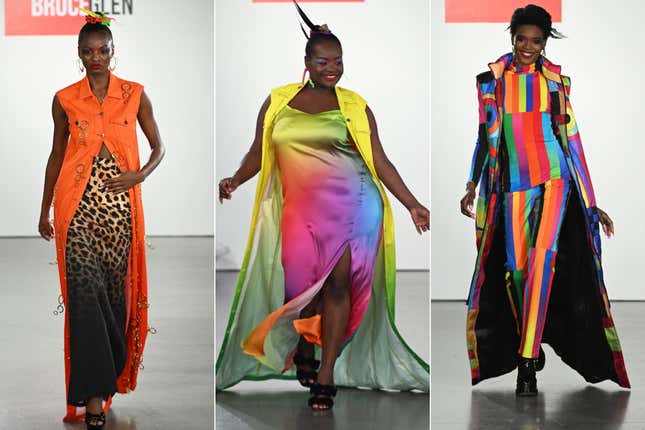 Amazon Prime Harlem star Shoniqua Shandai served as a guest model and fabulously rocked iconic pieces like the Cascade Jumpsuit in Pink Tide and Rainbow Gradient Maxi Slip Dress/Limeade Maxi Vest. The final walk was a seamless depiction of melanin meets magic as the show closed out with BruceGlen, guests, and models dancing with joy and embracing the soundtrack of gospel playing in the background. We can't wait to see what they have in store for next year's event!