His name is Malcolm Xavier Combs. He was named for the iconic black activist Malcolm X. And yet when Malcolm wanted to put the moniker of his namesake (and thus a shortened form of his own name) on his senior sweater, school officials deemed it inappropriate.
"I don't understand it," Mychelle Combs, Malcolm's mother, told the New York Daily News following another disappointing meeting with Christ the King High School President Michael Michel.
Malcolm's parents were once again unable to secure the right for their son to put Malcolm X's name, his name, on the back of the sweater.
"They are supposed to teach the students tolerance and to embrace other cultures," Mychelle Combs added.
She told the Daily News that when she asked Michel and other white officials at her son's high school "if they even knew who Malcolm X was or what he stood for," they just stared at her and sat without saying anything.
G/O Media may get a commission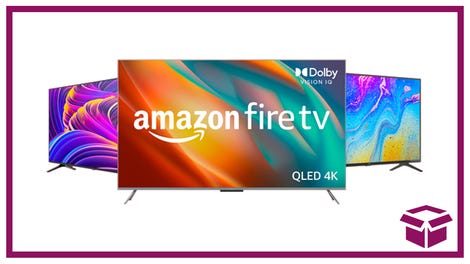 Ooh. stunning.
New Amazon Fire TVs
The Rev. Kevin McCall, crisis director at the National Action Network, told the Daily News that school administrators actually had a ranking of different black leaders, and guess who was deemed inappropriate?
Former President Barack Obama and Martin Luther King Jr.? Totally fine.
The Rev. Al Sharpton and Malcolm X? No way.
"I asked if my name was Alfred Sharpton and I wanted to use Al Sharpton on my shirt, can I do that?" McCall recounted. "And [Michel] said, 'No. We stand by that.'"
As the Daily News notes, the nature of this school's hang-up about Malcolm X's name is unclear. There are several schools across the nation named after the black activist. The U.S. Postal Service issued a stamp in his honor in 1999.
School spokesperson Bill Cunningham said that Malcolm (the student) got approval to use either his last name, first name or simply "Malcolm Xavier" on the $40 school sweater, confirming that the school vets all names proposed by students and ruled against Malcolm X.
But it was not only the rejection that left the family baffled—it was also how it was done.
"The assistant principal pulled him out of English class and told him, 'You don't wanna be associated with his name,'" McCall told WABC-TV. "He was like, associate with MY name? That's my name. That's on my birth certificate."
McCall said after that, another teacher came in and pointed at Malcolm, laughing at him and saying, "This is the new Malcolm X."
The school denied that the assistant principal made derogatory comments about Malcolm X. But the family disagrees.
"They simply don't like Malcolm X; that's basically their view," Mychelle Combs said. "Unfortunately, I'm not surprised they feel like that."
And indeed, many white people see Malcolm X as a controversial figure, given his unapologetic defense of and insistence on black rights, black freedom and black equality "by any means necessary."
Malcolm X's daughter Ilyasah Shabazz reached out to the school, offering to visit for a 30-minute assembly to help educate students and staff about the black leader and to teach them about "the historic social climate through which this young, compassionate and brilliant Malcolm navigated to have an egalitarian future for all Americans (as well as any oppressed persons abroad)," she pointed out in an email to the Daily News.
However, Cunningham brushed off the offer, saying that the school has taught lessons on Malcolm X before.
"This school has been teaching about Malcolm X for 20 years as part of African-American history," Cunningham said. "Malcolm X is part of the curriculum here, so there's no attempt in any way to shun Malcolm X and his contributions to America."

Right.
So now the National Action Network, along with Ilyasah Shabazz and the Combs family, have decided to gather at the National Action Network on Malcolm X Boulevard to discuss the incident.
"We are not accepting no," McCall said. "For them not to be culturally sensitive is a slap in our history's face."