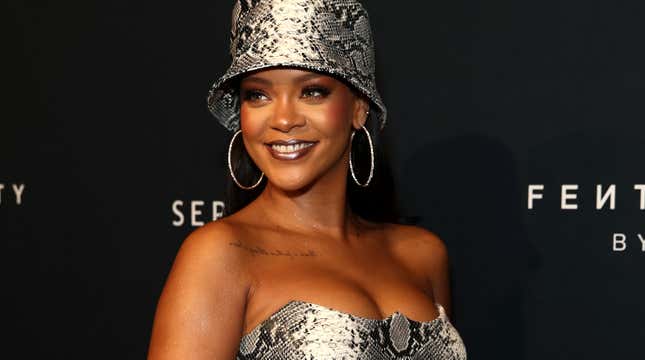 No, we don't have a sponsorship deal going with Rihanna (though that sounds lucrative AF—and fun), but when we see something great that might appeal to our Bad Gal-loving, multi-hued demographic here at The Glow Up, we feel compelled to let them know (and the rest of you will deal).

This Friday, the multi-hyphenate mogul is blessing us with a bevy of new offerings seemingly all focused around one thing—making the most of the skin you're in. To those familiar with Fenty Beauty's history-making 40-shade foundation launch in 2017 (now 50), this should come as no surprise; the entertainer has consistently maintained that her brands are for every body (or at least, the vast majority)—regardless of size, shape or color.
First up, Fenty has a solution for the one-size-doesn't-fit-all bronzer issue: on April 5, the beauty brand will be dropping their new SunStalkr bronzer ($30) in eight shades they claim are both blendable and transfer-resistant, and offer "instant warmth" to all shades, no sun damage required.
Next? For those of us who like our looks to be a little... extra, Fenty's releasing two universally flattering new Killawatt compacts: a super-wearable champagne-hued duo called "Afternoon Snack/Mo' Hunny" ($34), and an even more cleverly named coppery new Killawatt Foil in "Penny 4 U Thots" ($36).

Here, it's worth noting that Fenty had a near miss with a larger cultural appropriation/insensitivity issue. Allure reports that a third shade, initially named "Geisha Chic" was pulled from this launch after an Instagram tease sparked backlash from at least one follower. The brand quickly responded with plans to rename the shade, but... yikes.
Lastly, if you're the type who likes to take a more intimate approach, Savage X Fenty recently added shades "Honey" and "Brown Sugar" to its range of neutral lingerie, making it easier to find your ideal nude in her extensive line of lace, mesh and microfiber lingerie—ranging in sizes from XS to 3X and 32A to 44DDD.
Since we're on the cusp of sundress season, all these extra nude options should come in handy. But back to that whole sponsorship thing—is that how you score an invite to Rihanna-hosted private parties like this? Because we really can't think of any bigger boss move than singing karaoke and dancing to your own tracks—and pulling off a pretty solid cover of "The Boy Is Mine"...
That is, unless it's dropping fresh tracks, Rih.