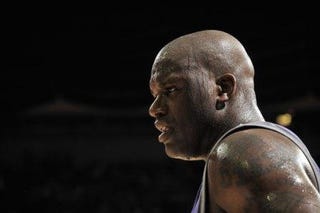 The mid '90s are long enough ago that Aaliyah's first disc, Age Ain't Nothin' But a Number, could qualify as an oldie by now. And it would be entirely appropriate—if hard on the ears—for several oldie-but-goody NBA players to be singing it now.
As we approach the midpoint of the NBA season, there are several interesting story lines, but none quite as compelling as the one in which four players on the downside of their careers have rebounded and helped their teams stay in the playoff race.
When players in their '30s start to see their skill decline, there are usually only two options, a soft landing or a freefall. Sudden, extended upticks in performance are rare, but Shaquille O'Neal, Ray Allen, Zydrunas Ilgauskas and Vince Carter didn't get that memo.
This time last year, I was wondering if O'Neal's skills were going to endure long enough for the NBA to give him a much-deserved farewell tour. The 36-year-old center had logged nearly 37,000 NBA minutes, and his fatigue showed. He was once the most dominant player in the game, but by last season, Shaq had become little more than an oversized role player, a slight shadow of his former self.
Since his arrival in Miami, before the 2004-2005 season, O'Neal's game had been in decline, and last season it went into freefall. Then he was traded to Phoenix, a team whose up-tempo style seemed like a really bad fit. The Suns revamped both their coaching staff and roster in the offseason; they adopted a game with a tempo more in tune with O'Neal's abilities. It was a big gamble, but it paid off handsomely. And now Shaq is undergoing a late-career revival. His points-per-game and shooting percentage are up; his turnovers are way down. He's the big reason [7-foot-1-inch and 325 pounds] that the Suns are in the thick of the Western Conference playoff race.
Ray Allen is the least heralded of the Boston Celtics big three, but he is the most necessary. When he struggled last season in the first two rounds of the playoffs, the mighty Celtics looked mighty beatable. I thought this year's Celts would decline because Allen's playoff struggles signaled a permanent falloff in his game.
Allen is 34 and that isn't just old for a backcourt player; it's ancient. Most Hall of Fame guards were either retired by that age or seriously considering life after hoops. This season, Allen has bounced back strongly; so far, his shooting percentage is at career-high levels, and his performance has offset unexpected declines from some of the Celtics' younger players. This has kept the Celts in the championship conversation.
Vince Carter's inclusion on this list is the biggest surprise. The guard, who turns 32 next week, is intolerant of teams in rebuilding situations. He refused to play hard and malingered his way out of Toronto when the Raptors had to piece together a new team. It was fully expected that he would force his way out of New Jersey, which is picking up the pieces after a long run of playoff appearances. Instead, Carter is one of two reasons (point guard Devin Harris is the other) the Nets have been competitive all season. Carter's scoring has become more efficient, and he's even working hard on defense. Since their second-half schedule is more difficult than the first, the Nets may not be able to sustain their playoff ambitions, but it won't be because of Carter's lack of effort.
The Cleveland Cavaliers' rise into the elite status of NBA teams has been the result of several factors. LeBron James is playing better than ever—yes, that's possible—and new assistant coach John Kuester has implemented an offensive blueprint that is a huge improvement from the Cavs' old approach of handing James the ball and hoping for the best. But the biggest change in Cleveland has been in the game of center Zydrunas Ilgauskas. The pivot man, who turns 34 later this season, is having his best season in years. He's shooting much more effectively and passing the ball well, and before an injury sidelined him for the rest of January, he and guard Mo Williams had diversified the Cavaliers' offense, making them almost impossible to defend.
The Cavs have risen to the elite tier in a league that is even more stratified than American standards of living during a Republican administration. Talk about haves and have-nots. Six teams are on pace to lose 57 or more games this season, while four teams are on target to win 65 or more. It's a far cry from last season when seven wins separated the top and bottom of the Western Conference playoff bracket. This year, the NBA looks more like America than ever in terms of the shrinking middle class.
And in case you're wondering, it's not that games looks slower on your new high-definition TV; the NBA is playing at a more methodical pace this season. In particular, some of the best offensive teams—the Cleveland Cavaliers, the Orlando Magic and the New Orleans Hornets—when healthy—play at a snail's pace. You'd think their lineup is full of geezers, but as Carter, Ilgauskas, O'Neal and Allen are showing fans, this is not such a bad thing anymore.
Martin Johnson is a regular contributor to The Root.
Martin Johnson writes about music for the Wall Street Journal, basketball for Slate and beer for Eater, and he blogs at both the Joy of Cheese and Rotations. Follow him on Twitter.