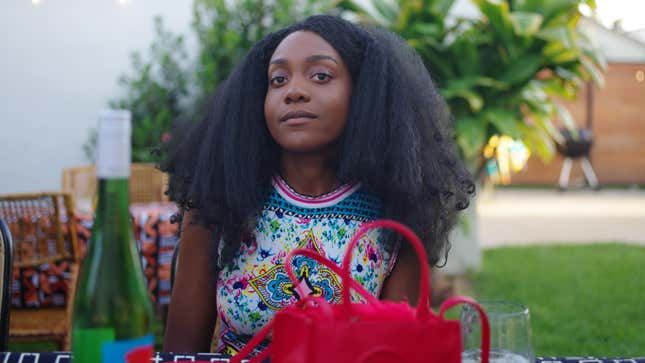 Sundial is a very rare album in the current musical landscape. Few artists can capture the essence of what is currently going on in the world while also relating it to their lives in a very personal and intimate way.
Tackling A Black Maternal Health Crisis & Embracing Reproductive Justice | The Root Institute
Yes, I know there are a myriad of "introspective" and "conscious" rappers out there. But none of them are like Noname, who beautifully weaves her experiences and thoughts while also addressing views that may differ from her own.
The fact that the music sounds dope is a bonus. Reading the lyrics she spits on every track will have you less focused on the sonic beauty of the song and more on the words she's speaking.
For example, on "black mirror," the opening track, the song begins with beautiful harmonies and instrumentation that will have you feeling like you're on vacation. But as soon as you hear Noname's voice, she raps, "She's a shadow walker, moon stalker, black author, librarian, contrarian the state say we dead we say we not/ That's my bitch, I believe my sister there are no winners/We smoking positivity like dust trust."
That same energy continues throughout the entire album as the Chicago MC challenges the government, Black culture, police culture, beauty standards, the music industry, romantic relationships, gender norms, and anything else that is relevant in current American society. Trust me when I say that nobody is safe on this album.

"hold me down," is a song where Noname claims that Black people too often "scapegoat everything" despite the role we can sometimes play in our demise. Yes, I know, harsh words. But Noname is not here to sugarcoat anything, she tells it how it is, no matter how light or dark her reality may be.
Lines such as, "first black president and he the one who bombed us" and "y'all ain't really with all that eat the rich, tax the rich/y'all ain't really bout that shit," perfectly display Noname's goals to revolutionize the environment around her.
In the same breath, her relatable and personal anecdotes are what make me want to return to this album over and over again. It harkens back to her debut mixtape, Telefone, which was littered with stories (both good and bad) of growing up in Chicago with family and friends. However, on Sundial, the anecdotes are less warm and fuzzy and more bleak, but still just as real. This is apparent when she's rapping about something as intimate as romantic relationships on "toxic," and something as superficial as hair on "beauty supply."

Noname's lyrics on "beauty supply" are what bring this album home. Although I cannot directly relate to the struggles Black women face when it comes to beauty and hair standards, I see it all the time with the women I know in my life.
On the song, she raps, "Lay me down by the edge of the river/Pray to god that my edges deliver a good look/Infantile baby hair make the men look, eurocentric lookbook residential forever."
She later continues, "We live in a momentary lapse of judgment, black concussion, asleep at the wheel we trusted the plantation to drive us home/Hallelu-Ye, idolize a white bitch while I rock a toupee/Cosplay new identity same enemy, me/When I believe I'm prettier with my, weave."
These are words that hit so close to home despite not knowing much about how to put a weave into a Black woman's hair.
While Noname's politically-charged words stand out on the album, she easily relates them to everyday struggles and hardships that make this a beautiful and deep listen. Her signature delivery that delightfully mixes rapping, singing, and poetry only makes her lyrics more impactful and important. Noname delivered another impactful and honest listen that made it worth the five years hiatus she took in between albums.