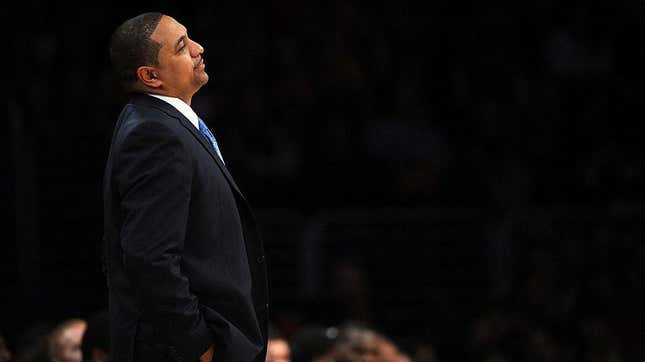 The voices that have become synonymous with the NBA Finals will no longer be with us.
Found on NBC and Marvel's Loki Season 2 Are Our TV Picks This Week
Just a month after Jeff Van Gundy was let go by ESPN, the worldwide leader in sports also let go of former NBA player, coach, and longtime NBA commentator Mark Jackson.
For more than a decade, Mike Breen, Jeff Van Gundy, and Mark Jackson were the lone voices we heard throughout June, the best month of NBA basketball. They were there for LeBron's block against the Golden State Warriors, Giannis' alley-oop against the Phoenix Suns, and Ray Allen's game-tying shot against the San Antonio Spurs. Now all of them, except Mike Breen, are gone.
In a post to Twitter, now X, Jackson wrote, "This morning, unexpectedly, I was informed that my services were no longer needed at ESPN. Although shocked and dismayed with the suddenness of it all, I would like to thank ESPN and all the staff of the NBA ESPN crew for allowing me to be a part of the organization for the past 15+ years."
He continued, "I would also like to thank the NBA fans watching at home and in the arenas throughout the league for all of your support. To the NBA, a heartfelt thank you for allowing a kid to continue to accomplish his dreams."
This comes just a month after ESPN let go of many notable personalities on their network, including Jalen Rose, Keyshawn Johnson, Max Kellerman, and many others.
Reportedly, Jackson was let go because ESPN plans on making Doris Borke, and recently fired NBA coach Doc Rivers the new voices of NBA basketball along with Mike Breen.
Even though the sports network was considering keeping Jackson as a part of a "B Team," executives at ESPN prefer the pairing of former NBA players JJ Reddick and Richard Jefferson as in-game analysts, according to the New York Post.
In any case, I hope Jackson finds another opportunity as a commentator of NBA games. Despite what some people say, I always enjoyed his commentary during games. I loved when he would say "Hand down, man down!" or "Mama, there goes that man!"
Maybe it was nostalgia, but it was always one of my favorite parts of watching the NBA finals on ABC and ESPN.