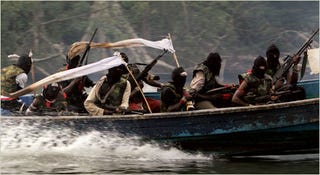 Hundreds of Civilians Feared Dead in Nigerian Military Action
Amnesty International has received reports hundreds of Nigerian civilians may have been massacred in a government attempt to rid the oil producing Niger delta region of rebel enclaves Reuters reports. The government has denied this claim, saying that no civilians were harmed or displaced. A military spokesman went on to say that those who did lose their lives were 'criminals' engaged in the conflict. Sri Lanka has reportedly totally backed the Nigerian government's play on this one.
Skinny Jeans and Sandals? Uganda Has Africa's First Skate Park
Too often we talk about the Continent in times of turmoil, but Design You Trust provides an interesting photo-essay on Kitintale Skate, Africa's first skate park. From the looks of the pictures, the dudes and dudettes in this picture can tear it up a little bit. Whether they're bumpin' the Cool Kids or Bad Brains is unknown, but the cultural creep is evident.
Feds Bangs Back: Latino Gangs Members Targeting Black Rounded Up in Los Angeles
The LA Times is reporting that a huge sweep operation conducted by local and federal law enforcement has led to the apprehension of several Latino gang members. Those targeted were accused of violence against law enforcement and also racially-motivated crimes against Blacks. The operation is being called by some "the largest gang takedown in United States history." Whether the results are as grand as the proclamation remains to be seen, but it is nice to see federal attention of the pleasant variety for a change.