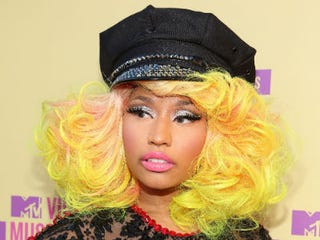 On Sunday, the Fox network announced that rapper Nicki Minaj will join the list of American Idol judges alongside Randy Jackson, Mariah Carey and Keith Urban. The singing competition returns for its 12th season, following two years with former judges Jennifer Lopez and Aerosmith's Steven Tyler, according to USA Today. The first round of auditions begin on Sunday in New York.
The panel touches most of the major music bases as Idol, which returns in January, will have its first judges with backgrounds in rap and country. Minaj, 29, known for explicit, animated lyrics and sexy, outlandish costumes, has seen her career powered by two hit albums, Pink Friday (2010) and Pink Friday: Roman Reloaded (2012). The Starships singer uses several alter egos in her rhymes and has a base of rabid fans who call themselves "Barbies."

Grammy winner Urban, 44, who last week announced he was bowing out of Australian's version of The Voice, released his sixth studio album, Get Closer, in 2010. It follows 2009's platinum-selling Defying Gravity. The Nashville-based singer, married to actress Nicole Kidman, was born in New Zealand and raised in Australia.
Read more at USA Today.