A Baltimore Ravens player was arrested and jailed Thursday after an Uber driver accused the NFL star of masterminding a whirlwind heist of a $15 cellphone charger.
The criminal plot began Jan. 13 in Tuscaloosa, Ala., a city known for its glamour and wealth. Defensive back Marlon Humphrey was there allegedly visiting the University of Alabama (nice alibi), where he played football until he was drafted in the first round by the Ravens. Despite his $11 million football contract, Humphrey needed more, and that's when he put his criminal plan into action.
Al.com reports that around 2 a.m., Humphrey used his phone to request an Uber. When the car arrived, Humphrey entered the car with two women and went to a local hotel. Reports do not indicate whether the women were used as accomplices to distract the "mark" while Humphrey's devious plan unfurled, but I've seen Ocean's Eleven at least two or three times, so I know how these things work.
The football player asked his driver for a cellphone charger, and the driver complied. When they arrived at the destination, that's when Humphrey struck. (And by "struck" I mean he simply exited the car with the cellphone charger.)
G/O Media may get a commission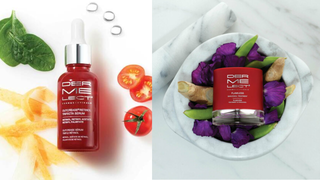 Save $19
Retinol Renewal Kit
The detailed police report indicates that the driver tried to get the charger back, but that's when the professional athlete attacked the hapless, unwitting 30-year-old driver and unleashed the fire and fury of a million beasts. The driver was assaulted with an unrelenting barrage until he finally escaped, reporting absolutely no injuries. (Slightly pushing someone away with your elbow can be described as an "unrelenting barrage," right?) The driver did say that Humphrey balled up his fist but didn't hit or swing at him ... like a savage!
The Uber driver, now with no cellphone charger to call his own, went to the Tuscaloosa Police Department and filed charges. Humphrey was on the lam for days, evading capture until he was apprehended by eagle-eyed officers who spotted him inside the police station trying to turn himself in.
He was booked in the Tuscaloosa County Jail on a $2,500 bond. The star is charged with third-degree robbery and harassment.
"Marlon is saddened by this because he knows it's an honest mistake," Humphrey's attorney, Paul Patterson, said. "He's confused and perplexed as to how an Uber driver could go down and be able to secure a warrant for his arrest over something so simple and innocent. He realizes there are individuals out there who will not believe his side of the story, but fortunately, we have eyewitnesses that will support our position 100 percent."
I'm just glad we can keep these kinds of thugs off the streets. Police officers are probably still searching for Humphrey's contact on the cellphone-charger black market. If law enforcement officers let this go, then none of our cellphone chargers are safe. You don't want to live in that kind of world. There is only one necessary detail that should be added to this crime tale:
The cellphone charger didn't even fit Humphrey's phone.