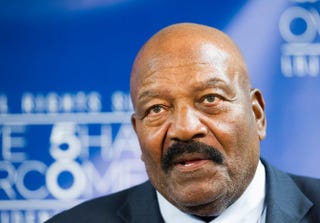 The 1964 NFL championship ring belonging to former Cleveland Browns star Jim Brown is a prize in anyone's eyes.
However, the ring, which is up for auction at Lelands, was stolen from the famed running back 40 years ago, he claims, according to the Associated Press. Brown says that the claim that he authenticated the ring is a lie and he was unaware that it was up for auction.
As of Tuesday at 1:30 p.m. EDT, the ring's highest bid was $36,602. Lelands representatives have yet to comment on the accusations.
Brown, who is currently a special adviser to the Cleveland Browns, is renowned for his rush for more than 12,000 yards in nine seasons. The year his team won that particular championship, he rushed for 1,446 yards and scored seven touchdowns, AP notes.
Read more at the New York Daily News.