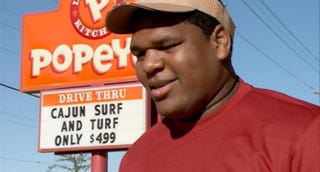 Devin Washington, 18, sure knows how to impress potential employers.
The high school football player leaped into action after witnessing an attempted robbery while sitting for a job interview at the fast-food chain, Raw Story reports. 
According to the report, a man reached into the restaurant's cash register, grabbed some money and attempted to run away, leaving the restaurant in chaos. The manager went to block the thief's exit, and that's when Washington moved, holding the robber's arm behind his back and keeping him in place despite the thief's efforts to escape. 
"He was trying to put up a fight with me, and I was just holding him there," Washington told WDSU 6. "I wasn't scared or nervous or anything like that. I just got up and did it." 
Washington held the suspect in an armlock until police arrived. 
Needless to say, Washington walked out of the restaurant with a brand-new job. 
Read more at Raw Story.