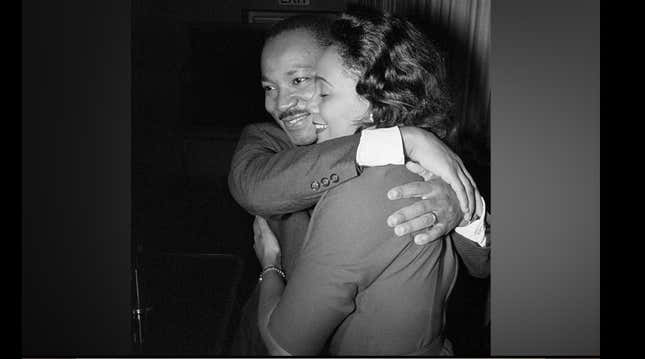 It's been said that "art is in the eye of the beholder, and everyone will have their own interpretation." But for a new sculpture honoring Dr. Martin Luther King Jr., some beholders are interpreting it as insulting. The monument, called "The Embrace," was inspired by an image of Dr. Martin Luther King Jr. hugging his wife, Coretta Scott King, after he won the Nobel Peace Prize in 1964. But since its reveal in Boston Common last week, the sculpture has received mixed reviews.

Rapper and Actor, Common, Plays That's So Random
Only the couple's arms are represented in the 20-foot tall, 40-foot wide statue, designed by a Brooklyn-based artist Hank Willis Thomas. And as more and more people get a glimpse of the completed piece, Twitter has erupted with comments from confused folks who couldn't understand why the artist left out the rest of the Kings' body parts. Some have even suggested that from some angles, the sculpture looks like a sex act.
For his part, the King's son, Martin Luther King III, defended the artist's work, saying he was "moved" by the sculpture. And in an interview with CNN's Don Lemon to commemorate the Dr. Martin Luther King Jr. national holiday, he said he wasn't bothered by the fact that only his parents' arms appear.
"I'm satisfied," he said. "Yeah, it didn't have my mom and dad's images, but it represents something that brings people together. And in this day and age, when there's so much division, we need symbols that talk about bringing us together."
But other family members have not been as kind and have not held back on throwing shade at the new statue. Seneca Scott, one of Coretta Scott King's cousins, has not been shy about making his dislike for the statue known, even calling for someone to "melt it down," on Twitter. "I still can't get over how they tried to play my fam," Scott wrote in a January 15 tweet.
Embrace Boston, a nonprofit racial justice organization that was instrumental in the creation of "The Embrace" has not commented on the criticism.