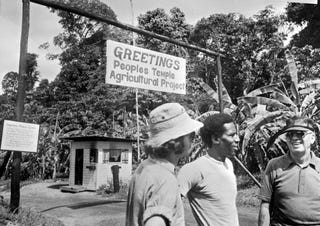 Black America Web is reporting that a group of Peoples Temple survivors announced plans Thursday for a granite monument inscribed with the names of more than 900 people who died in the Jonestown tragedy 32 years ago to the day. Some ex-members have grown impatient with efforts by the Rev. Jynona Norwood over the decades to erect a 36-foot-long stone wall, like the Vietnam Veterans Memorial, at the Oakland, Calif., cemetery where more than 400 unidentified and unclaimed victims are buried.
Those planning the new and competing memorial include Jim Jones Jr., an adopted son of the temple leader. Jones told the Associated Press it's time to move forward with an alternative monument: four large stone slabs that would be sunk flat on the grassy mass-grave site overlooking San Francisco Bay. Jones, who lost his parents, pregnant wife and other relatives in the mass suicide-murder, says, "I have loved ones, and their name is not listed anywhere." Norwood, who lost 27 relatives in the tragedy, insists that she will press ahead with her plan for a monument, although the cemetery site says it isn't feasible. In the words of Rodney King, "Can't we all just get along?"
Read more at Black America Web.