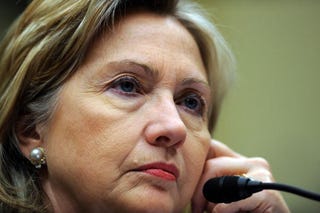 Newly released emails show that the White House and the State Department coordinated in 2015 to avoid controversy related to the Hillary Clinton email server scandal, the Wall Street Journal reports, according to The Hill.

The Republican National Committee submitted a Freedom of Information Act request that yielded email exchanges from within the Obama administration that show efforts to avoid discussing the former secretary of state's email scandal in March 2015 after the New York Times broke the story.
White House Communications Director Jennifer Palmieri and then-State Department spokeswoman Jennifer Psaki discussed ways to avoid having Secretary of State John Kerry answer questions regarding the scandal.
"Between us on the shows … think we can get this done so [Secretary of State John Kerry] is not asked about email?" Palmieri asked Mrs. Psaki.
"Agree completely and working to crush on my end," Psaki responded.
A few days later, Psaki followed up with: "Good to go on killing CBS idea. And we are going to hold on any other TV options just given the swirl of crap out there."
Kerry was interviewed by the CBS show Face the Nation on March 12 and was not asked any questions about the Clinton email scandal. A spokeswoman for CBS said that no subject was off-limits during the interview.
The FBI investigated Clinton's handling of government documents, and although she was found to be "extremely careless" with highly classified information, no Department of Justice prosecution was recommended. The case against Clinton was officially closed July 7.
Read more at The Hill.