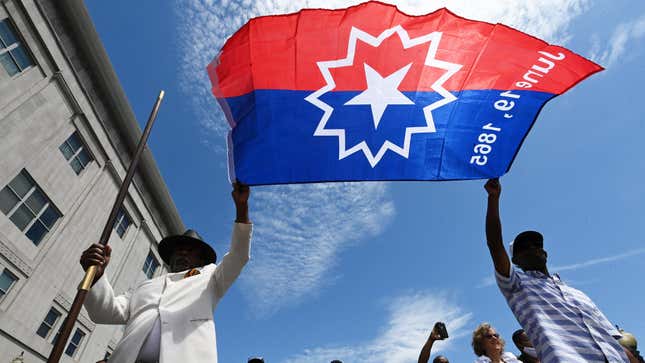 On Thursday, Republican Gov. Joe Lombardo signed a bill into law that now makes Juneteenth a state holiday in Nevada. Nevada has now joined other states who have done the same, including New York, Texas, Virginia and Washington. By changing the June 19 holiday from a day of observance to a state holiday, this means more state employees can now take the day off.
Small Town Horror Story: Juneteenth & The Aftermath of Slavery
Before the law, Nevada had 11 legal holidays: New Year's Day, Martin Luther King, Jr.'s birthday, Washington's birthday, Memorial Day, Independence Day, Labor Day Nevada Day, Veterans Day, Thanksgiving Day, Family Day (Friday after Thanksgiving), and Christmas Day. Juneteenth is now the 12th legal holiday for the state of Nevada.
The measure passed by votes of 19 to 2 in the state Senate and 40 to 1 in the state Assembly. One of the bill's sponsors, Democratic Assemblywoman Claire Thomas, stated: "As the first state to ratify the 15th Amendment, which gave African Americans the right to vote, Nevada has a long and proud history of supporting civil rights."
Thomas continued: "By designating Juneteenth as a state holiday, Nevada continues to honor that legacy and celebrate the progress that has been made in the fight for equality." Juneteenth formally recognizes the emancipation of enslaved people in the United States. Originally, it was first celebrated in Texas in 1865 following the Civil War.
In 2021, President Joe Biden signed a bill passed by Congress that makes Juneteenth a federal holiday. During the signing, Biden said: "[The holiday] marks both the long, hard night of slavery and subjugation, and a promise of a brighter morning to come. This is a day of profound — in my view — profound weight and profound power."