The United States Department of Justice and the state of California have come to a deal of sorts in their battle over the rules of net neutrality—at least for now.
The state of California said Friday it would not enforce what has become labeled the nation's strictest state-level net neutrality law when it goes into effect Jan. 1, 2019. The state agreed with the Trump administration as well as several internet companies that filed legal complaints against the state to wait on the outcome of a federal lawsuit that is pending in Washington, D.C. The Washington Post reports that California Attorney General Xavier Becerra asked a federal judge in Sacramento to put the case on hold for now.
The lawsuit was filed by the Justice Department against the state after Gov. Jerry Brown signed the protections into law on Sept. 30. The new state laws mimicked the net neutrality protections put into place by the Obama administration in 2015. Four lobbying groups representing the telecommunications industry also filed suit.
Becerra is part of a separate case currently in the D.C. Circuit Court of Appeals that was filed by a group of 22 state attorneys general, consumer advocates, and industry groups in an attempt to undo the net neutrality repeal at the federal level. Should the FCC lose that case, it would nullify the need for California's new net neutrality law because net neutrality would already be restored on a federal level.
G/O Media may get a commission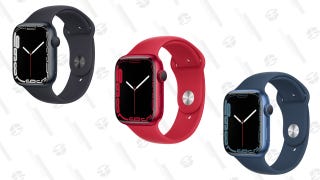 Up To $45 Off
Apple Watch Series 7
There are multiple ways that suit can have an impact on net neutrality—win, lose or draw for all parties.
Even if the FCC wins that suit, the court could still rule that states have the right to pass their own net neutrality rules, which would make the California law valid. But as Fortune points out, even that won't be a guaranteed victory for the state, because the DOJ can still argue that the federal government has the right to regulate interstate commerce—part of the foundation of California's new law.
Ryan Singel, a fellow at Center of Internet and Society at Stanford Law School who supports the law, told the Post: "This isn't a setback, and it's ready to go into effect once the federal decision comes down."
Becerra, a Democrat, said in a statement after Friday's decision "Every step we take, every action we launch is intended to put us in the best position to preserve net neutrality for the 40 million people of our state."