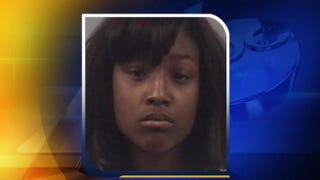 North Carolina police arrested a teen after she called 911 because she was upset that her mother had grounded her and taken away her cellphone.
According to ABC 11 News, police arrived at 16-year-old Jasmyne Keyonia Davis' home a little after midnight Tuesday after the emergency operators received a call from a female who was reportedly screaming and crying.
Police soon discovered that Jasmyne was the caller and that she was upset because her mother had taken away her cellphone.
Neighbors told the news station that Jasmyne "had been going through typical teenage rough patches with her mom that escalated recently with several police visits to their home."
Jasmyne was charged with misusing the 911 system and booked into the Johnston County Jail. She had a reported $2,500 bond and an Aug. 28 court date, ABC 11 News reported.
Read more at ABC 11 News.