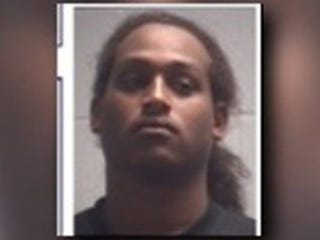 Officer Tim Brackeen of the Shelby, N.C., Police Department was shot early Saturday and later died Monday morning from his injuries. Police suspect that Irving Fenner Jr., 23, is the man behind the shooting, and cops are now searching for the North Carolina man, USA Today reports.
"I saw this man shoot this cop and then he said, 'Ashley, Ashley!' like he was warning me not to say something, but I'm brave," said Ashley Hamrick, who witnessed the shooting while she was sitting outside her house.
According to USA Today, Hamrick, whose roommate dated Fenner, said that they had kicked him out the week before and she couldn't understand why he was back at the house.
"I've seen him be abusive, but I never thought he'd shoot a cop," she said.
Hamrick also knew Officer Brackeen, who she said helped her get out of an abusive relationship and would check up on her every now and then. Brackeen won many merit awards and was named Officer of the Year during his time as a cop. Brackeen was serving outstanding warrants at the time of the shooting.
Read more at USA Today.