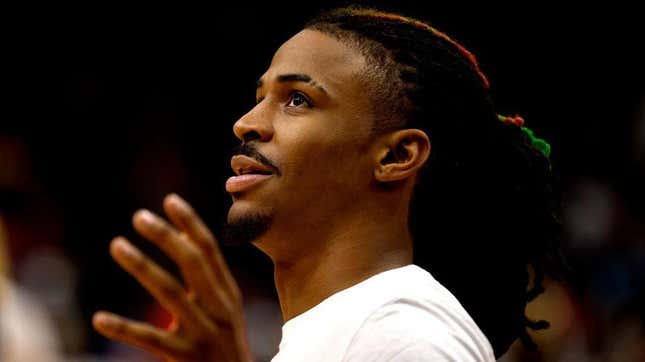 The 2022-2023 NBA season has not been nice to NBA superstar Ja Morant, mostly because of his own actions.
How A Coffee Brand Scaled Up Its Business & Scored A Partnership With The NBA | Securing the Bag: Part 2
Along with being suspended from the team after being seen brandishing a gun on Instagram Live, the star guard was also sued for allegedly assaulting a 17-year-old minor during a pickup basketball game last summer in July 2022.
Now, months after Morant was sued, the young face of the Grizzlies is fighting back against the minor and countersuing the 17-year-old teenager, claiming that he's the victim of slander, battery and assault, according to the Daily Memphian.
Morant's attorneys are arguing that the negative media attention that the teenager's lawsuit brought their client has cost him millions in potential earnings, which is why they are also asking for unspecified compensatory damages.
More from the Daily Memphian:
Morant said Joshua Holloway, the teenager who sued him over a fight on July 26, 2022, has damaged his reputation and that the teen throwing a basketball at him could have been "career-ending."

Attorneys for Morant also claim that Holloway, a former Memphis-area high school basketball player, lied to the police about Morant brandishing a weapon and that the key details of the once-sealed case were leaked to the media in violation of a court order.
The two-time All star's attorneys are arguing that Holloway has affected Morant's potential career earnings because they claim the media attention will affect their client's prospects to make one of the three All-NBA teams.
If Morant was named to one of the three teams this season, he would be eligible for a contract extension worth $231 million, a huge increase from the $193 million rookie extension he signed last summer.
Along with the allegations that the teenager threw a basketball at him, Morant is also arguing that Holloway balled up his fists and "walked aggressively" towards Morant during the pickup basketball game in July 2022, according to the Daily Memphian.
I'm no legal expert, but this sounds like a dust-up at a normal pickup game that got more serious than it should've. Hopefully, this doesn't serve as a distraction for Morant and the Grizzlies as they begin their playoff journey against the Los Angeles Lakers this Sunday.