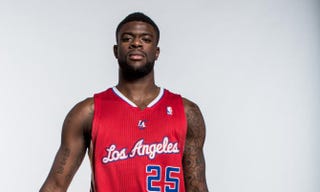 Another transgender woman has been found dead in Baltimore. This time the victim has been identified as the sister of NBA player Reggie Bullock, Reuters reports. Mia Henderson, 26, was discovered Wednesday in an alley, having suffered "severe trauma," a police representative told the news site.
Her brother was a first-round draft pick for the Los Angeles Clippers in 2013, Reuters notes, playing in more than 40 games for the regular season.
As Reuters points out, Henderson's slaying is the second such violence to be inflicted on a transgender person in Baltimore this summer. In June 40-year-old Kandy Hall was stabbed to death.
With regard to the investigation into Henderson's death, police spokesman Lt. Eric Kowalczyk said, "We are not ruling anything out at this point."
Bullock took to Twitter to memorialize his sibling.
Read more at Reuters.