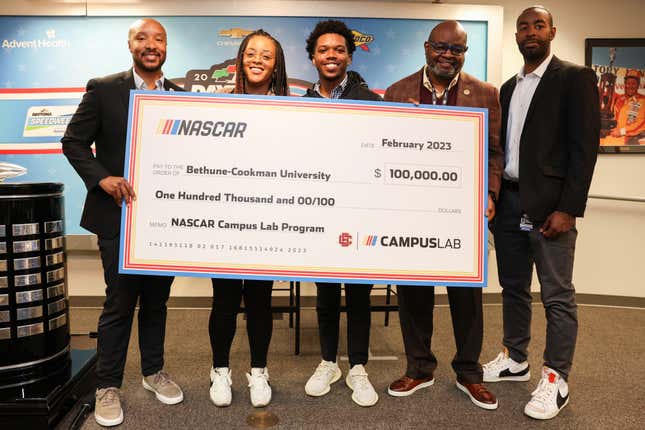 It's not a surprise to hear that NASCAR isn't a sport that has been openly welcoming to Black fans. It banned the Confederate flag in 2020, but it still doesn't feel like we're completely welcome in that space. However, in recent years, the sport has worked to change that perception. Per NASCAR, through its Diversity & Inclusion program, the auto racing organization is "recognizing the value of diversity, which allows us to go faster and farther in our workplaces, at the race track and in the stands." The community is working toward that sentiment through a new initiative with Bethune-Cookman University.

According to NASCAR, The Campus Lab Program offers business majors who want to work in the sports industry a chance to gain "hands-on experience through a specialized curriculum." Since Bethune-Cookman is around three miles from the motorsports giant's Daytona Beach headquarters and Daytona International Speedway, the partnership makes perfect sense.
"The NASCAR Campus Lab Program will provide exposure to the motorsports industry, career readiness guidance and valuable real-world experience for Bethune-Cookman students," Caryn Grant, Senior Director of NASCAR Diversity & Inclusion said in a statement. "We look forward to developing the next generation of sports professionals while strengthening NASCAR's relationship with this historic university."
Participating students will work on "developing a marketing activation while managing a set budget provided by NASCAR, compete in a case study competition, get a behind-the-scenes view of careers throughout the industry, be paired with a mentor from NASCAR's Black employee resource group and receive resume and interview tips from human resources professionals." NASCAR also donated $100,000 to the program. For those with designs on taking over the sports world, this is a unique experience to have on your resume. The program is open to Bethune-Cookman sophomores and above with a business major, minor, or concentration and an interest in careers in the sports industry. Applications to participate in the fall 2023 session will close on March 24.
"We're extremely excited about the opportunity to expand our long-standing relationship with NASCAR and the Daytona International Speedway," Dr. Lawrence M. Drake, interim president at Bethune-Cookman University said in a statement. "The NASCAR Campus Lab Program will provide B-CU students with direct access to NASCAR and the world of motorsports through experiential learning, mentoring, and professional support. We believe this kind of exposure will not only help our students further develop the skills and competencies they need to compete in the 21st-century knowledge economy, but will open their minds to an industry that probably wasn't previously in their consideration set."
There's no denying that this is a great opportunity, but we also need to acknowledge the real world concerns that these students could face. As cool as this experience could be, is it worth it for these young people if they find themselves working in a hostile environment filled with uncomfortable interactions? The good news is that students will be paired with Black NASCAR employees, so hopefully they'll have mentors who can help them navigate any crazy issues that come up.