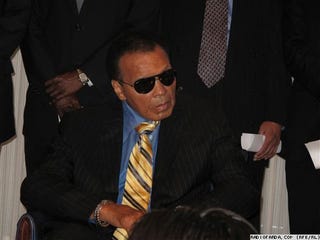 Heavyweight-boxing legend Muhammed Ali joined U.S. Islamic leaders this week in an appeal to Iran to release hikers Josh Fattal and Shane Bauer from the prison where they've been held for 22 months. The two were arrested and charged with espionage in 2009. They say they may have inadvertently crossed the border into Iran.
Ali and the group traveled to Washington, D.C., to deliver their message, standing before a banner bearing the words "662 Days Without Freedom," stressing the pair's innocence, and asking for their freedom.
Sixty-nine-year-old Ali, whose speech is made difficult by Parkinson's disease, delivered his statement through his wife, Lonnie: "We ask for their release, for their compassionate release and the mercy that they showed to Sarah, to show the same to Josh and to Shane, because they too are citizens of the world. If they will look at them as the world looked at Muhammad when he was a young man in the same fashion, wanting to experience the world, experience people, she said." Like Ali, she added, they sought to engage people worldwide despite cultural differences.
Bauer's fiancée, Sarah Shourd, was released on bail last year. She also pleaded for the pair's release.
Although Ali didn't speak at the event, he wrote a letter in February to Supreme Leader Ayatollah Ali Khamenei. While the impact of this most recent outreach on Fattal and Bauer's freedom remains to be seen (earlier Tuesday, a Foreign Ministry spokesman told Iranian state TV that calling the imprisoned Americans hikers is a "joke"), there's no question that Ali is committed to fighting as hard for humanitarian issues as he did for wins inside the ring. 
Read more at CBS News and the Washington Post.
In other news: Three Maricopa County Cops Busted for Human, Drug Smuggling.
Like The Root on Facebook. Follow us on Twitter.