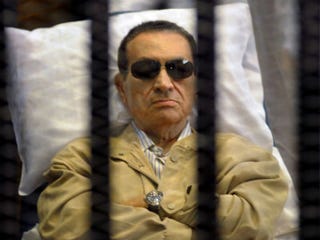 Following his conviction on June 2 on charges of complicity in the killing of protesters during 2011's uprising, former Egyptian President Hosni Mubarak is barely conscious of his surroundings. According to the Guardian, Mubarak, who received life in prison for his crimes but was acquitted on corruption charges, began to deteriorate just after he was transferred to his incarceration unit eight days ago.
Mubarak's wife, Suzanne, and her two daughters-in-law were granted special permission to visit him early on Sunday to quash rumours of his death, the official said at Cairo's Torah prison.

Since then Mubarak has had an irregular heartbeat and required assistance in breathing. The official said Mubarak was consuming only liquids and yoghurt.

Mubarak's health is reported to have collapsed since his conviction on 2 June for failing to stop the killing of protesters during last year's uprising.

Officials have turned down several requests by Mubarak's family to transfer him back to a military facility, where he had been held before his conviction.