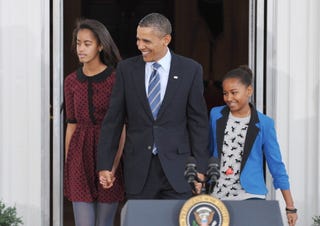 (The Root) — She's already active on Facebook and Twitter, where this week she crossed the 1 million-followers mark. On Wednesday Michelle Obama further expanded her social media footprint with the launch of a Pinterest page. The account, which is run by the Obama re-election campaign but features personal photos captioned by the first lady herself, kicked off with Father's Day in mind.
Paying tribute to President Obama's other job as a dad to Sasha and Malia, as well as her own late father, Fraser Robinson, she pinned personal photos highlighting the two men: the first daughters strolling arm in arm with their father down the West Wing Colonnade, a Robinson-family portrait featuring a baby FLOTUS and the president cheering Sasha on from the bleachers at one of her basketball games (he also coaches the team). We've compiled our favorite snapshots below, but check out Michelle Obama's Father's Day Pinterest board to see them all.
Like The Root on Facebook. Follow us on Twitter.