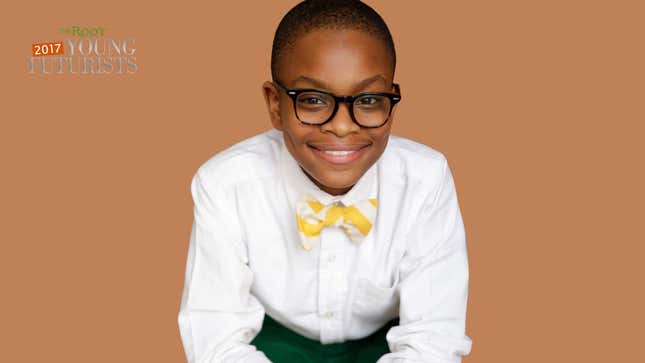 At 15, Moziah Bridges is already the best dressed in the room, brightening up an event with his colorful, handmade bow ties. Moziah, the CEO of Mo's Bows, has been running his six-figure business with his mom and grandmother in Memphis, Tenn., since 2011.

Tackling A Black Maternal Health Crisis & Embracing Reproductive Justice | The Root Institute
"I like to wear bow ties because they make me look good and feel good," Moziah wrote on his website. "Designing a colorful bow tie is just part of my vision to make the world a fun and happier place."
CATEGORY: Enterprise/Corporate Innovation
AGE: 15
HOMETOWN: Memphis, Tenn.
EDUCATION: Freedom Preparatory Academy High School
SOCIAL MEDIA: Twitter, Facebook, Instagram, website
Moziah has sold more than $300,000 worth of bow ties and men's accessories, with products available at several retailers nationwide. In 2016, he was recognized by the National Retail Federation and received its Dreamers Award. He also was named to Fortune's "18 under 18" list of young innovators and entrepreneurs. In 2015, he was a fashion correspondent for the NBA draft and gifted Sacramento Kings' Willie "Trill" Cauley-Stein with a custom bow tie. The NBA draft experience made a lasting impression on Moziah. This year, he is planning to release the "classic NBA collection" of bow ties and neckties.
His most rewarding experience, he said, was designing and presenting an "Obama blue" bow tie to President Barack Obama in 2015 at the inaugural White House Demo Day. Ultimately, Moziah hopes to run his own fashion line by the age of 20. Soon, he told The Root, he hopes to style Chance the Rapper, Kanye West and Jay Z with one of his custom bows.