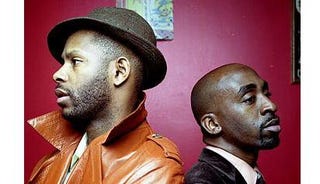 R&B albums rarely combine the multiple musical legacies of one given city and catch the zeitgeist of its time as masterfully as PPP's sophomore disc, Abundance (Ubiquity). As the title suggests, producer Waajeed and multi-instrumentalist Saadiq—the group's two brainiacs—pack so much historical reference, so much modern perspective, so much deft musicality, so much lyrical ingenuity, and so much vivacity that Abundance is full of artistic riches.
Hailing from Detroit, it comes as no surprise that PPP (formerly Platinum Pied Pipers) bolsters much of Abundance with the epochal sounds of Motown, which celebrates its golden anniversary this year. But Motown, particularly its '60s halcyon years, has informed a motherlode of recent albums, notably Amy Winehouse's 2006's breakout disc, Back to Black (Island), Solange Knowles' nifty Sol-Angel and the Hadley Street Dreams (Music World/Geffen, 2008) and Raphael Saadiq's fawning The Way I See It. Referencing Motown now seems purely trendy if not passé.
Although syncopated handclaps, snazzy snare-drum intros and soulful doo-wop harmonies rouse songs like "Go Go Go," "Countless Excuses" and "Rocket Science," Abundance channels more of Norman Whitfield's urgent soul psychadelica that he wrote for the Undisputed Truth and Edwin Starr rather than Holland-Dozier-Holland's sweet innocence that other current Motown-inspired discs bite.
PPP also prevents Abundance from being middling Motown pastiche by drawing upon a fuller spectrum of Detroit's musical legacy. Songs, like the body-jacking "Smoking Mirrors," the scalding "Luv Affair" and the forceful "Angel," reconcile Motor City's Motown, P-Funk, garage rock and electronica, all at once, and still are palatable for hip-hop heads. More impressive, however, is how PPP executes its ambitions minus the irony-at-gunpoint gauche that mars so much hipster culture.
This is where genuine song craft, animated by strong vocal performances, comes in. On Abundance, PPP recruits four new powerful singers: Karma Stewart, Jamila Reagan, Coultrain and Neco Redd—all destined for greatness. Coultrain, in particular, wins the MVP award for contributing the lion's share of witty lyrics and hooky melodies.
The vocalists repay in kind. Stewart infuses just the right amount of Saturday night sass and Sunday morning gospel fervor on the punchy lead single "On a Cloud," while Reagan effectively brings out the lovesick apprehension in "Go Go Go." Redd plays a convincing call girl on the cabaret-driven "American Pimp," while Coultrain projects the free-spirited friskiness of a playa on "Pigeonhole."  
Abundance deals mostly with romance, detailing the games people play and revealing how everyone plays the fool. Coultrain reveals the ambiguities of a love affair on the spiteful "Rocket Science" on which he and Stewart sing: "I can't win/When you found a way to fight it every step of the way/Afraid to be afraid/it gets far more than complicated/Touché.'" He addresses suspicion on the thunderous ballad "Ain't No Ifs or Maybes" opening with "She says she only wears open toes for me/Well if so then she's a thief/cuz I've caught the faint scent of cologne/money comes and money goes/and when it's gone she's out the door." Bliss occurs, too, as on the idyllic "Sanctuary," on which Coultrain questions the stability of a romance with the lines: "How do you know when to kiss your freedoms goodbye?/And be certain it be for the last time," amid a cloud of swooning strings and suspended cymbals.
Love may be the overarching theme of Abundance, but on several songs, PPP sneaks in a subtext dealing with self-identity, self-reinvention and self-determination. "How far are you willing to go/To work to look and breathe like somebody else," PPP asks on the galvanizing New Wave romp "Smoke & Mirrors" as they critique fashion slaves with "How will you ever get to see your growth?/When you bought your style right off of the shelf." Coultrain articulates the complexities of constant reinvention, especially as he opens "Pigeonhole" with "Now let's see/ who shall I be?" before warning his paramour that he can be "shallow as a dry well" or "noble as a statue."
PPP tackles those aforementioned themes best on the title track. Against a caffeinated boogie-woogie piano riff, Coultrain croons: "Don't know who I am/Don't think I ever did" to a wary lover as he explains that he once was trapped by definitions imposed upon him. Soon he delivers the boastful chorus: "See you're a slave to tradition if you don't wanna have it all/If revolution ain't your picture, then you'll cease to exist at all." Here, PPP gives us "Dancing in the Streets," the Motown classic that epitomized excitement of the mid-'60s.
The ebullience of "Abundance" recalls the fervor of late-night Nov. 4, 2008, when Barack Obama became this country's first black president. The lyrics, while not overtly political, evoke the self-determination of Obama's ascension and perhaps his sentiments to black naysayers, who earlier in his campaign doubted that he could reach his ultimate political goal. Both the song's lyrics and energy evoke the optimism of many black Americans reevaluating and transforming themselves, fighting long-held stereotypes and striving for, as Coultrain sings, a newfound "slice of abundance."
John Murph is a regular contributor to The Root.