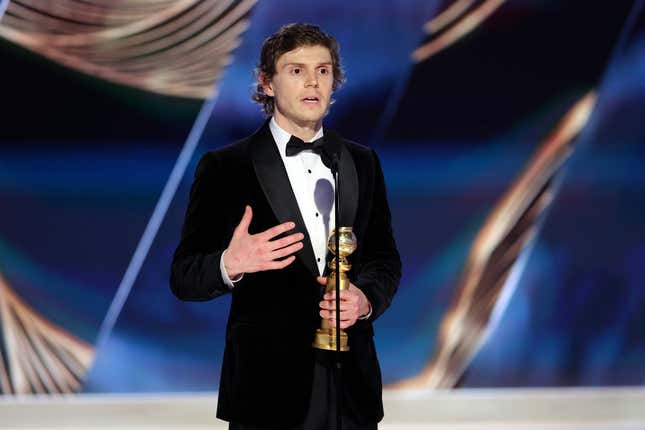 The current TV landscape is obsessed with true crime. Serial killers have become celebrities and there are endless podcasts examining every aspect of certain cases. However, it's crucial to remember that behind these stories, there are real victims with families who are still grieving. That was forgotten on Tuesday when Evan Peters won a Golden Globe for his chilling performance in the title role of the hit Netflix limited series Dahmer – Monster: The Jeffrey Dahmer Story.

The Wire and Death Of A Salesman's Wendell Pierce Plays That's So Random
While accepting the award for Best Performance by an Actor in a Limited Series, Anthology Series, or a Motion Picture Made for Television, Peters thanked the cast and crew of the series, his team and his family. However, he did not mention Dahmer's victims or their families, something many viewers found egregious. While he didn't know he would win until his name was called, he certainly could have had something prepared. The series has been the subject of backlash since its premiere, so it would have made sense to address it while it was being lauded and receiving trophies.
"I want to thank my family, friends, and loved ones who helped pick me up when I fell and carried me to the finish line," Peters said in his acceptance speech. "And lastly but most importantly, I want to thank everyone out there who watched this show. It was a difficult one to make, a difficult one to watch, but I sincerely hope some good came out of it."
I'm sorry what? Other than lining producer Ryan Murphy's pockets, what good could have come from this series?
Shirley Hughes, the mother of Tony Hughes, one of the killer's victims, took exception with Peters winning and his out of touch speech.
"Evan should have used his acceptance speech to mention the families who are still suffering from Dahmer's crimes, or to say Hollywood should put an end to telling stories about killers and glorifying them," she told TMZ.
She noted how the true crime craze and the fame of certain serial killers can lead other unstable individuals to seek notoriety by doing awful things.
"There's a lot of sick people around the world, and people winning acting roles from playing killers keeps the obsession going and this makes sick people thrive on the fame," Hughes said.
She also explained how nothing good comes from these types of projects and they just end up causing more pain for the victim's families, saying, "it just adds to the grief for the families of the people Dahmer killed, replaying the tragedy over and over." Adding insult to injury, these families are often not included in the process or proceeds of these films and series.
"It's a shame that people can take our tragedy and make money. The victims never saw a cent," Hughes said. "We go through these emotions every day."
Evan Peters is certainly not the first actor to be recognized for playing a serial killer, and he won't be the last. But in this case, it seems particularly tone deaf to not be prepared to acknowledge the victims and their families, since they've been very vocal about their objections to the series.
And by the way, Dahmer was a giant hit for Netflix, which means true crime stories are not coming to an end anytime soon. We can only hope that producers will be more mindful of how they treat the real people affected by these cases. It's literally the least they can do.