Just days after the New York Times published an article in which two women accused Donald Trump of sexual assault, more women have come forward to say that the Republican presidential candidate touched or kissed them inappropriately and without their consent.
The Washington Post reports that Kristin Anderson was a struggling model in her early 20s, trying to make it in New York City, when she encountered Trump at a Manhattan nightclub in the early 1990s.
Anderson told the Post that she was sitting on a couch and did not notice Trump sitting next to her until he slid his fingers under her miniskirt, moved up her inner thigh and touched her vagina through her underwear. Anderson said she shoved his hand away, and the incident lasted no more than 30 seconds.
The Post approached Anderson to tell her story after a reporter heard about the incident from a friend of Anderson's, but she was not immediately ready to go public until she saw the Times article and a People magazine first-person account.
"It's a sexual assault issue, and it's something that I've kept quiet on my own," Anderson said to the Post. "And I've always kept quiet. And why should I keep quiet? Actually, all of the women should speak up, and if you're touched inappropriately, tell somebody and speak up about it. Actually go to the authorities and press some charges. It's not OK."
G/O Media may get a commission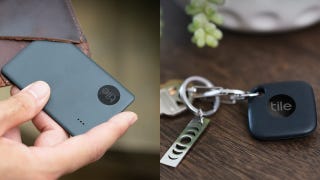 Up to 35% off
Tile Item Trackers
Another woman, Summer Zervos, 41, a former contestant on The Apprentice, said that Trump made unwanted sexual advances at a Beverly Hills, Calif., hotel in 2007 after she contacted him about a job opportunity, according to the Washington Post.

Zervos spoke at a news conference Friday, accompanied by attorney Gloria Allred, and said that after an initial meeting with Trump to discuss a potential job opportunity, the presidential candidate kissed her on the lips and asked her for her phone number.
Zervos said that Trump contacted her weeks later and asked her to meet him at a Los Angeles-area hotel. At that meeting, Trump became sexually aggressive, kissing her open-mouthed and touching her breasts. When Zervos rejected his advances, he began speaking to her as if they were on a job interview and later offered her a low-paying job at a Trump-owned golf course.
Trump has denied the claims of all his accusers and has attacked their looks as a means of defense, a move seen by many as a tacit admission that the allegations of sexual misconduct are true.
At a campaign stop in Greensboro, N.C., on Friday, NBC News reports, Trump told the crowd of supporters that some of his accusers were probably coming forward for fame and called the accusations "totally invented, fiction, 100 percent totally and completely fabricated."
Trump said that Jessica Leeds, who appeared in an interview with CNN's Anderson Cooper on Thursday and accused Trump of groping her during a flight more than 30 years ago, "would not be his first choice."
"When you looked at that horrible woman last night," Trump said in an apparent reference to her appearance on CNN, "you said, I don't think so, I don't think so. "
NBC News reports that at one point during Friday's rally, Trump asked the crowd if anyone thought he shouldn't talk about his sexual assault allegations.
One woman half shouted, "I do."