The pain of losing a child is unfathomable.
Yet California mom Heather Clark somehow turned her tragedy into a life-changing opportunity for other families, donating her infant son's organs when he suddenly died in 2013, KTLA reports. 
And last Friday, Clark was moved to tears as she was able to listen to her son's heart beat one more time in the chest of a little 4-year-old girl. 
In November, Clark made contact with Jordan Drake's family and shared the experience on Facebook, posting a photo of the vibrant little girl:
"I would like to share something with all the amazing Lukas supporters. Today I have been in contact with a beautiful family. This beauty [Jordan] is the girl who has Lukas heart beating in her. One day I will meet her and squeeze her so tightly! Thank you to her mom and dad who allow me to be a part of their lives. This is the best Christmas present I could have asked for."
On Friday, Clark got that opportunity, meeting Jordan at Phoenix Children's Hospital and putting a stethoscope to the little girl's chest, bursting into tears as she listened to her son's heart. 
"Amid the unthinkable grief of losing her son Lukas, Heather made a decision that saved three lives," Donate Life Arizona, which shared photos of the meeting, said in a statement. "Jordan received Lukas' precious heart when she was just 18 months old. Yesterday, Heather heard her son's heartbeat for the first time in nearly three years."
G/O Media may get a commission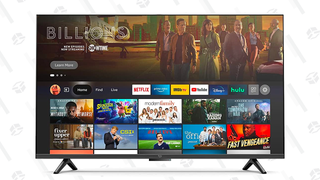 22% off
Amazon Fire TV - 50" Omni Series 4K - Early Access Deal
Little Lukas died at 7 months old in 2013 after being abused by a babysitter's boyfriend, and the grieving mom made the decision to donate his organs, saving the lives of three other children in the process. 
"I'm not going to say anything. I'm just going to hug her. I think I have run out of words at this point," Esther Gonzalez, Jordan's mom, said, moments before she and Jordan met with Clark. "Hugging … I don't have anything else to say."
When Jordan was a baby, she was fighting for her life because of a congenital heart defect. At 18 months old, she had already undergone six heart surgeries and had suffered seizures, a stroke and brain hemorrhaging. Jordan needed a new heart to survive, CBS News reports. Lukas' heart was her new lease on life. 
"I knew if Lukas could prevent another family from experiencing the loss that I felt, that's what I needed to do," Clark said, according to CBS.
According to Donate Life Arizona Media Relations Coordinator Jaqueline Keidel, such a meeting is rare. Only about 5 percent of donor families and recipient families ever meet or communicate. The moms are hoping that sharing Clark's experience with Jordan will encourage other parents to consider organ donation, CBS notes. 
Keidel said that Clark called meeting Jordan "the happiest day of her life since her son was born." 
Clark is looking forward to continuing to interact with Jordan and her family and is making plans to attend her high school graduation, wedding and every other major event in her life.