A St. Louis man who allegedly shot his infant son in the midst of a domestic dispute with his wife before taking off with two of his other children has turned himself in to the authorities, the St. Louis Post-Dispatch reports.
Diata R. Crockett is expected to be charged in the death of his 8-month-old son, Reign Crockett, Tuesday afternoon. Crockett's attorney, Scott Rosenblum, said that he arranged for Crockett to turn himself in Wednesday morning.
The two other children, 3-year-old Blaze Crockett and 2-year-old Ryker Crockett, remained in the car with Crockett after the shooting Tuesday before being dropped off that afternoon at the home of relatives, the Post-Dispatch noted in an earlier story.
Later Tuesday evening, police recovered the rented car that Crockett had been driving at the time in Ferguson, Mo. Crockett has been accused of threatening his family with murder and suicide in the past.
According to the report, the incident began after Crockett forced his wife into a rental car at gunpoint while the baby, Reign, was in his mother's arms. Blaze and Ryker were in the backseat at the time. At a stop sign, the children's mother "saw an opportunity to escape" and tried to flee the vehicle. Crockett then allegedly fired a gun at his wife but hit the 8-month old instead. The mother got another motorist to take her and the baby to a hospital. Crockett, according to an 11-minute 911 call with that driver, was "trying to run [the vehicle the mother was in] off the road."
G/O Media may get a commission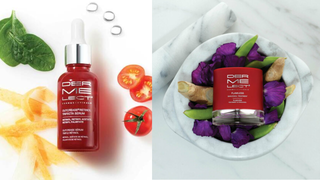 Save $19
Retinol Renewal Kit
Reign was pronounced dead at Christian Hospital. Although the father reportedly followed the mother and her rescuer to the hospital, police did not find any surveillance video showing his vehicle near the hospital.
"This is one of those days where it's difficult to be a police officer," Police Chief Sam Dotson said at a press conference. "When there's violence that involves children, that's always difficult, and it makes me sometimes question humanity."
The couple had six children in all.