About 20 minutes before he gave remarks at the long-awaited dedication ceremony for the Dr. Martin Luther King, Jr. National Memorial today, President Barack Obama received a private tour of the monument.
Walking hand in hand with daughters Sasha and Malia, he scaled the length of the memorial's curved inscription wall, reading quotes from some of King's most memorable speeches and writings. After scrutinizing the 30-foot sculpture of King's likeness at the memorial's heart, Obama turned to tour mates Martin Luther King III and Bernice King, children of the late civil rights leader. He asked, "Are you all happy with it?" They responded in the affirmative.
The president didn't just take in the monument; he also left some things behind. In the memorial's time capsule, a large silver box to be buried at the site, he dropped in signed copies of two of his speeches. One, his January 2009 Inauguration Day speech. The other, his remarks at the 2008 Democratic National Convention, delivered on Aug. 28, 2008 — 45 years after the March on Washington, where King gave his "I Have a Dream" speech.
Finally, the president left a message tying the struggle of the civil rights movement to the present day. "We forget now, but during his life, Dr. King wasn't always considered a unifying figure," Obama told thousands of spectators and dignitaries, after first illuminating the victories that King helped usher. "Even after rising to prominence, even after winning the Nobel Peace Prize, Dr. King was vilified by many, denounced as a rabble-rouser and an agitator, a communist and a radical. He was even attacked by his own people, by those who felt he was going too fast or those who felt he was going too slow."
Bringing the Past to the Present
The president said he brought up King's controversial and hard-won progress because the movement's work is not yet complete. It's a sentiment all the more apparent in the wake of the economic crisis, rising poverty, crumbling schools, inadequate health care and persistent violence, he said. With that, the president encouraged the audience to draw strength from earlier struggles.
G/O Media may get a commission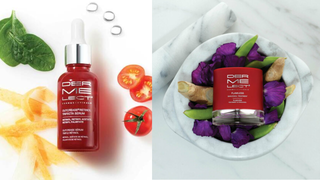 Save $19
Retinol Renewal Kit
"Change has never been simple, or without controversy." Obama continued. "Change depends on persistence. Change requires determination. It took a full decade before the moral guidance of Brown v. Board of Education was translated into the enforcement measures of the Civil Rights Act and the Voting Rights Act, but those 10 long years did not lead Dr. King to give up. He kept on pushing, he kept on speaking, he kept on marching until change finally came."
Putting that approach into the modern-day context, he said that Americans today must likewise tirelessly strive for better:
"As we think about all the work that we must do — rebuilding an economy that can compete on a global stage, and fixing our schools so that every child — not just some, but every child — gets a world-class education, and making sure that our health care system is affordable and accessible to all, and that our economic system is one in which everybody gets a fair shake and everybody does their fair share, let us not be trapped by 'what is.' We can't be discouraged by 'what is.' We've got to keep pushing for what 'ought to be.' "
From my vantage point, on the forecourt of the memorial with the White House press pool and about 500 guests — including Attorney General Eric Holder, United Nations Ambassador Susan Rice, the Rev. Joseph Lowery, HHS Secretary Kathleen Sebelius, Rep. Karen Bass, Al Sharpton and Jesse Jackson — the response to the ceremony was enthusiastic but slightly reserved.
But at a larger stage for the thousands who flocked to the National Mall for the event, The Root witnessed a  response that was more emotional. During the president's speech, which visitors could see on two jumbo screens flanking the stage, chants of "four more years" erupted from the crowd. As the president and first lady joined a choir in singing "We Shall Overcome," viewers sang along with strength and conviction. And when Stevie Wonder brought the ceremony to a jubilant close by singing "Happy Birthday," the crowd sang out and clapped along.
Remembering Dr. King's Lesser-Discussed Teachings
The three-hour dedication program, hosted by PBS NewsHour's Gwen Ifill, included remarks by the King family, Julian Bond and Cicely Tyson, as well as performances by Mary Mary, poet Nikki Giovanni and Aretha Franklin. While the ceremony had its moments of solemn reverence, and joy over having a permanent national tribute to King, much of the tone was brazenly and unapologetically political.
Similar to the president's remarks, Martin Luther King III reflected that his father's struggle for social and economic justice is far from over, citing high unemployment, the wars in Iraq and Afghanistan, mass incarceration and "regressive tax breaks for the rich while breaking the backs of the poor" as his examples.
D.C. Mayor Vincent Gray, in surprisingly fiery welcome remarks, used his platform to advocate for D.C. voting rights — an issue that King himself marched for in the 1960s — calling taxation without representation "a state of tyranny." He implored the president and Congress to give D.C. residents voting representation.
Sharpton's speech focused on getting out the vote in the 2012 election. After mentioning the Occupy Wall Street protests, he said, "We're going to occupy the voting booth. We're going to take in those who stand for justice and retire those who stand in the way."
Even journalist Dan Rather jumped on his soapbox about "the corporatization and politicization of the news," bemoaning news corporations for colluding with special-interest groups and funders instead of serving the interests of the people.
Speaker after speaker, from Marian Wright Edelman to Rep. John Lewis, did not merely commemorate the past. Hardly anyone heralded the Disney-fied, nonthreatening image of King often used to define him, focusing instead on his teachings against war and the wealth gap, and his calls for radical, nonviolent dissent as the path for change — then and now. All this set against the backdrop of his permanent monument on the National Mall made for a striking, historic moment.
"And that is why he belongs on this Mall —- because he saw what we might become," Obama said in closing. "That is why Dr. King was so quintessentially American — because for all the hardships we've endured, for all our sometimes tragic history, ours is a story of optimism and achievement and constant striving that is unique upon this Earth."
Cynthia Gordy is The Root's Washington reporter.