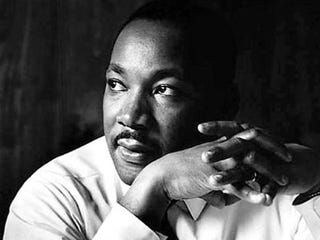 The estate of the Rev. Martin Luther King Jr. has filed a federal lawsuit against a Mississippi news anchor, claiming that he has documents taken from the slain civil rights leader by a former employee, the anchor's mother, the Huffington Post reports.
King's children operate the estate as a private company. In the lawsuit, they seek possession of the papers from Howard Nelson Ballou, who works for Jackson television station WLBT.
They allege that Ballou's mother worked for King as a secretary from 1955 to 1960 and kept documents from the time King led the Montgomery Improvement Association and the Southern Christian Leadership Conference. They value the letters, photographs and other items at issue at more than $75,000, though the exact value is not clear.
"These documents and items are not only rare and irreplaceable, but of great value and historical importance as well," the lawsuit says.
Ballou referred questions to his attorney, Robert Gibbs. He says Ballou's parents were both personal friends of King and his wife, Coretta Scott King.
"I don't know if the items they've listed are in Howard's possession. What I do know is that Mrs. Ballou received a number of items from Dr. King and Mrs. King, and those are rightfully her items," Gibbs said. 
Read more at the Huffington Post.
In other news: Jason Wright Passes on NFL for Business School.