Nothing says Good Ole Party like the threat of a lynching, and that's exactly what Republican Missouri Rep. Warren Love expressed what he hoped would happen after people were seen defacing a Confederate monument in his state's Springfield National Cemetery.

"This is totally against the law," Love wrote after sharing an article indicating that paint was thrown on a statue of Confederate Maj. Gen. Sterling Price. "I hope they are found & hung from a tall free with a long rope," ThinkProgress reports.

Love's call for a hanging has sadly become the norm in this bizarro climate that includes white supremacists in the White House and a march in Charlottesville, Va., by white men with tiki torches. Nevertheless, that didn't stop folks from calling for Love's resignation, according to the St. Louis Post-Dispatch.
"What I should've wrote is that I hope that they are brought to justice and apprehended and prosecuted to the fullest extent of the law," Love told ThinkProgress about his Facebook post. "That's what I shoulda wrote. That would have been a very politically correct statement."
Love added: "Anyone regardless of age, gender or race that would desecrate or vandalize an object of remembrance is a lowlife that has no respect for memorials that have been placed by loved ones of people that want to honor that individual. This crime currently is only a misdemeanor, and it is being made clear by recent acts of vandalism that it needs to be increased to the felony level."
G/O Media may get a commission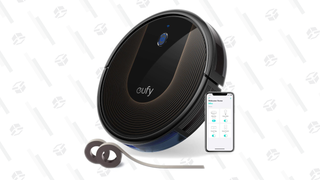 48% Off
Eufy BoostIQ RoboVac
Love also told ThinkProgress that he's "a cowboy and a "Western man," whatever the fuck that means.
"It appears that several people have interpreted a post I made to be rather harsh and inciting violence, and I did not mean it that way," he said. "I was only using an old cowboy statement that is a Western custom for thieves who steal horses. To all who this post offended, I am very sorry—however, I do believe [the vandalism] is very serious."

Of course, because America doesn't have a history of lynching black bodies, so I'm not sure how people offended by the post were supposed to take it. Also, it's annoying that people can write and say offensive shit and then, when you're offended by said offensive shit, they claim that you've misinterpreted the offensive statement because you got offended. But let's just act like this is purely a Western cowboy fantasy and not the racist American way that hanging has always been doled out.
"History needs to be told—the good, the bad and the ugly," Love said. "Even the history of how we treated the Native Americans and the Japanese in World War II. I'm really into history, and I don't think we should cover it up or try to blot it out."
I think want he meant to say is, "Racist America loves racist history, and therefore we have to preserve America's racist past." There, Love, I fixed it for you.
Read more at ThinkProgress and the St. Louis Post-Dispatch.