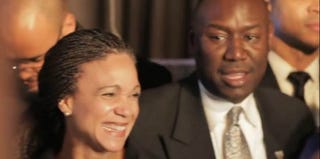 (The Root) — On Thursday, Nov. 15, The Root celebrated the journalists, politicians, scholars, civil rights advocates and others who make up our 2012 list of stellar black influencers at our annual The Root 100 Gala.
In lower Manhattan at the Tribeca Rooftop, notable guests stepped onto our trademark green carpet to share their thoughts on the importance of inspiring others. Luminaries included Mother Jones reporter Adam Serwer, Trayvon Martin family attorney Benjamin Crump and MSNBC hosts Touré and Melissa Harris-Perry.
A pianist serenaded guests during cocktail hour, which was followed by dinner, keynote speeches, an awards ceremony and a dance party. The gala was a full-on celebration saluting those who work tirelessly in their respective industries to influence and to effect change.
"It's just about being your authentic self, even if your authentic self is nerdy or goofy or has a lisp," Harris-Perry told The Root.
Keynote speaker, honoree and director of the Schomburg Center for Research in Black Culture Khalil Gibran Muhammad mentioned the importance of fellowship at gatherings like this. "Getting to meet the amazing African-American leaders — thought leaders … who will be shaping the future of this country," he said.
Check out more highlights from the video below. 
Like The Root on Facebook. Follow us on Twitter.