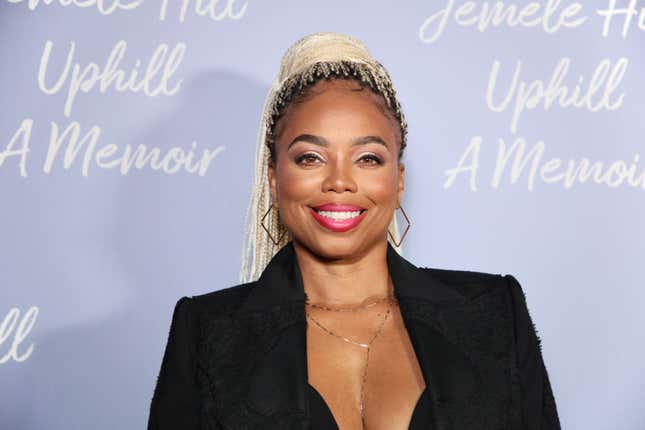 Journalist Jemele Hill is a longtime advocate for Black creators and writers receiving the same financial compensation as their white counterparts. Her unapologetic, outspoken nature often rubs those who benefit from the status quo the wrong way, leading them to create false narratives about her career. That was the case on Friday when rumors swirled about her contract with Spotify, the distributor of her podcast Jemele Hill Is Unbothered. Following a report from Bloomberg that Hill was the latest high-profile podcaster to leave Spotify, a Twitter user expressed their disappointment at Hill's show being canceled by the platform, which led the host to set the record straight.

Stay Outta Black Businesses' Business
"People: A lot of what's been reported just isn't true. My podcast hasn't been canceled. I never asked Spotify for $100M. This shit is truly comical," Hill tweeted. "Next week's guest is: Sabrina Elba. In the coming weeks: Blair Underwood, Kasi Lemmons, JR Smith, Kenny Latimore and more."
This led to the usual nonsense about her being fired again, referencing her exit from ESPN, so she had to once again remind the trolls that their long-running story wasn't true.
"As much as y'all try to run with the 'fired' narrative, I've still never been fired from a job in my whole life," she tweeted. "You're too old to be so concerned with business that's not yours."
Meanwhile, Outkick, a conservative sports news outlet, tweeted that Hill was let go for "daring the company to pay her or another black host $100 million to match Joe Rogan." This was a misdirect from a 2019 New York Times interview where she expressed how she wanted Black podcasters to get the same mega deals that someone like Joe Rogan gets. She responded to the fervor around Outkick's story with a tweet explaining how completely wrong they were about everything.
"You should probably comprehend better, or maybe read the original piece—which was about me wanting to see Spotify make that investment in prominent Black podcasters," Hill wrote. "I never told Spotify or the NYT, that I deserved $100M. My deal at Spotify is pretty fair. This was about investment and growth."
I know certain people are always threatened when a confident Black woman speaks her mind and doesn't care what you think about her, but seriously, do you guys have nothing better to do than count Jemele's money? Because here's the thing: she's right. How many times do Black people have to prove that we drive culture before we start getting compensated and recognized for our contributions? Most of those viral trends you guys love so much were started by Black people who don't get the credit because that usually goes to some cute white kid.