Keith Cooper was wrongfully convicted of a crime he did not commit 20 years ago, and he patiently waited three years for then-Indiana Gov. Mike Pence to use his executive power to issue a pardon and remove the mark from his record, to no avail. On Thursday, Pence's replacement, Republican Eric Holcomb, got the job done.

Justice Smith Talks New Dungeons & Dragons Movie, The Get Down On That's So Random
The Washington Post reports that Cooper, 49, was convicted of armed robbery in 1997, and Holcomb said Thursday that he was pardoning Cooper for a crime of which he was innocent.
"I am very much at peace pardoning him," Holcomb said at a news conference. "I believe he is innocent of that crime."
Holcomb pardoned Cooper for the armed robbery conviction, but not a battery conviction for which he also asked for a pardon, according to the IndyStar. Of the battery charge, to which he pleaded guilty, Cooper said that he was defending himself against another inmate while in jail for the robbery charge.

G/O Media may get a commission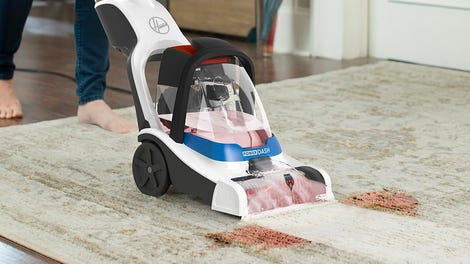 26% Off
Hoover PowerDash Pet Compact Carpet Cleaner
"After careful and thoughtful consideration and review—something I've thought about every day over the last month—just earlier today I issued a pardon to Mr. Keith Cooper for his past and, I believe, wrongful armed robbery felony," Holcomb said. "I did so because since that conviction in 1997, many pieces of information that were out and about that had been brought forward since have changed, including a victim, an informant, even the deputy prosecutor who convicted Mr. Cooper on that first crime; all have stated support or no objection to a pardon."
Holcomb said that a deputy prosecutor wrote a letter in support of Cooper, and eyewitnesses who helped to convict Cooper have since come forward to say that they were wrong.
The Indiana Parole Board unanimously recommended a pardon several years ago, Holcomb said.
"So it's for all of these reasons and personally believing that Mr. Cooper has waited long enough and needs not endure any further uncertainty that I issue this pardon this morning for the robbery conviction only, not the battery conviction," the governor told reporters.
According to the Post, Cooper was arrested in January 1997 for attempted murder and armed robbery in a crime that happened at an apartment complex in Elkhart, Ind. Cooper and another man, Christopher Parish, were accused of committing the crime by police, but Cooper maintained that he had never met Parish.
Cooper, who reportedly fit the description of one of the suspects, was convicted and sentenced to 40 years in prison; Parish was convicted and sentenced to 30 years.
Years later, new evidence surfaced that proved Cooper's innocence, including DNA from a hat left by one of the armed robbers. That DNA was later traced to another man who matched Cooper's physical description and who committed a murder in Michigan years after the Elkhart crime.
Additionally, victims and eyewitnesses recanted their original statements and accused the Elkhart police detective investigating the crime of manipulating them into identifying Cooper.
After spending nearly a decade in prison, Cooper was released in 2006, but the felony remained on his record.
From the Post:
Last year, Cooper's attorney filed a petition for post-conviction relief, arguing that "an avalanche of new evidence" entitled Cooper to a new trial. That includes DNA evidence, recantations from victims and witnesses and most recently, a crucial letter from the attorney who prosecuted Cooper in 1997. Michael Christofeno, a former Elkhart County deputy prosecutor, had written the letter to Pence, saying: "Justice demands that Mr. Cooper be pardoned. We cannot undo the wrongful imprisonment of Mr. Cooper, but we can undo his wrongful conviction with a pardon," according to the IndyStar.
Pence denied the request, and his general counsel wrote a letter saying that Cooper's request was "extraordinary," so the judicial process would have to run its course before the governor could step in.
Um, what?
You have a mountain of evidence proving that this man is innocent of the crime he was charged with. You have witnesses and a prosecutor saying that he should have his name cleared, but the judicial process needed to run its course?
Yeah, right.
Holcomb, who was sworn in Jan. 9, issued the pardon within four weeks of being in office.
Elliot Slosar, Cooper's attorney, said in an email to the Post: "We are elated that in four short weeks Governor Holcomb was able to provide justice for Keith Cooper and the other victims. The swift action by Governor Holcomb proves that the four years of inaction by former Governor Pence was unnecessary and disgraceful."
Read more at the Washington Post and the IndyStar.