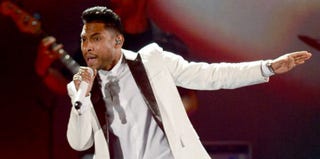 Remember Miguel's onstage acrobatics gone wrong? At the Billboard Music Awards on May 20, the R&B singer jumped over the audience during his performance, accidentally kicking Khyati Shah in the head and throwing her onto the stage floor behind her. Though she and the singer seemed to be friendly and on good terms after the show, Shah may be taking Miguel to court, according to The Guardian.
Now, Shah's lawyer has revealed she is "considering" legal action over Miguel's failed acrobatics. Her medical condition has not improved, Vip Bhola explained to E!, and Shah is experiencing "difficulties" now that the "star-struck … shock" has worn off. "We will determine [how to proceed] after we have feedback from medical providers," Bhola said. While Bhola has yet to contact Miguel's lawyers, he indicated that his client would consider a financial settlement.
Read more at The Guardian.
Follow The Root on Facebook. Follow us on Twitter.