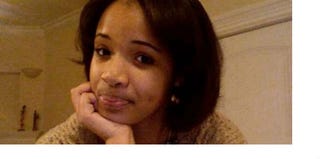 First lady Michelle Obama will attend the funeral service of Hadiya Pendleton, the 15-year-old girl who was shot and killed last week in Chicago shortly after performing at President Obama's second inauguration as a majorette in her high school's marching band, the Chicago Tribune reports. The president's senior adviser, Valerie Jarrett, and Secretary of Education Arne Duncan will also attend the event at Chicago's Calahan Funeral Home.
The first lady is not expected to make public remarks during her visit, and the Obamas' daughters, Malia and Sasha, are not expected to accompany their mother.

Scheduled to speak at the funeral is Gov. Pat Quinn, who mentioned Pendleton during his annual State of the State speech on Wednesday as he called for tougher gun control measures. Quinn said he spoke to the teen's family this week. 
 
"There are no words in the English language, or any language, to relieve the pain of parents who lose a child," said Quinn, who has two adult sons.
 
The White House official who confirmed Michelle Obama's plans said that senior adviser Valerie Jarrett and Secretary of Education Arne Duncan will also attend the funeral. Both are Chicagoans. 

Community activists had urged the Obamas to come to Chicago to speak out about recent violence. A petition on the White House website had called on the Obamas to attend Pendleton''s funeral.
Read more at the Chicago Tribune.