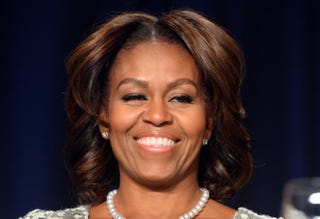 If Justin Bieber were Michelle Obama's son, she "would pull him close," she said in an interview with Univision, when asked how she would aid the embattled teen pop star if she were his mom, according to Politico.
Bieber has grabbed national attention recently, but not for his art. The teen was reportedly arrested in Miami Beach, Fla., last month on a DUI charge, among other high-profile incidents.
"I don't know if it would be advice as much as action," she told Univision. "I would be very present in his life right now. And I would be probably with him a good chunk of the time, just there to talk, to figure out what's going on in his head, to figure out who's in his life and who's not, you know."
The first lady also discussed President Barack Obama's sartorial style, and said he's responsible for it. "We may criticize, laugh, joke, push, cajole, but in the end, you know, he's the one that's making the decisions about his look," she said.
Read more at Politico.