Imitation may be the sincerest form of flattery, but Michael Jackson — arguably the most iconic superstar of all-time — has way too many impersonators to keep track of. His timeless songs and music video hits have inspired an endless stream of homages and parodies, even after his death. TV comedy sketch shows have added a humorous spin to his past hits and YouTube offers countless fan-made renditions of Jackson's work. While there's no way we at The Root could show you all of them, we've compiled a handful of our favorite MJ video sendups. Take a look:
1. "Billie Jean"
You may not recognize this MJ classic at first. And you may not want to. As evidenced with the strained vocals and barely audible chorus, it's clear this Malaysian Idol-wannabe spent more time mimicking the King of Pop's moves than learning the lyrics to his song.
If you thought the original music video was theatrical, get a load of these "bad" kids doing a rendition of Jackson's subway faceoff. MJ's underage understudy makes us do a double take at 3:08.
Cheesy special effects aside, this preteen duo does a good job of keeping up with the pulsating rhythm of this 90s song by Michael and Janet Jackson. Their choreography is on point and the sibling rivalry and playfulness between the two, who look like brother and sister, serves the video well. But things get a little creepy at 3:02.
Weird Al Yankovic may have met his match. "Eat It," the comedian's quirky parody of Jackson's well-known "Beat It" has nothing on this lively mariachi band's rendition of the song. In their hands, this badass song becomes a family affair fit for consumption at a Mexican restaurant. Listen to the lead guitarist's best attempt at mimicking the King of Pop at 0:28.
As an international figure, Jackson's message of racial equality even made it to Ukraine where this folk rock band made "Black or White" their own, especially at 1:37. They're not bad at all, but you must watch the original afterward.
G/O Media may get a commission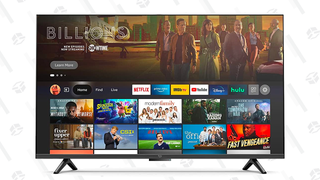 22% off
Amazon Fire TV - 50" Omni Series 4K - Early Access Deal
This "Dirty Diana" tribute proves how much you can do with a living room setup. Although the leading man's frequent hair flipping reminds us more of a Rick James video than it does of Jackson, we have to hand it to the video's makeshift director for his dramatic close-ups and cuts. Honorable mention goes to the background female "guitarist" who doubles as the notorious Diana.
There's something to be said about a good lip-sync. Armed with nothing but an arsenal of facial expressions, this MJ fan pays tribute to this MJ classic by showing off his emotional side. A fun comparison to the regal stoicism that Eddie Murphy and Iman demonstrated in the much-revered original music video.
Alien Ant Farm does a rock-infused rendition of this cover. This may seem a far cry from the original, but Jackson's moves make their way into nearly every scene. Watch for Bubbles' distant cousin at 1:39.
Uhhh … no words. You just have to see for yourself.
We originally thought to show the video of Mexico City residents setting a world record by recreating the "Thriller"music video. But this Indian parody wins hands down! Check out the leading man decked out in red leather, sporting fangs and all. Now that's dedication!
Saaret E. Yoseph, a proud member of the Millennial generation, is The Root's assistant editor. Follow her on Twitter.
Saaret Yoseph is a writer and Assistant Editor at TheRoot.com. She manages and blogs for \"Their Eyes Were Watching …\"