For many, Michael Jackson is personal. I, Michael Joseph Arceneaux, born in 1984, am a testament to this trait among longtime fans of Michael Joseph Jackson. I'm named after him. I grew up with him. Many of the positive memories from my childhood are directly connected to events related to his art. Still, quite a few of us can exercise humor when it comes to the late King of Pop.

I've joked about his children, whom I've referred to occasionally as "those white kids he ordered." I've made it no secret that of all of Michael Jackson's faces through the years, my favorite might be the Bad era, because it was the first time I could really remember him, and what I most remember is wondering why he looked so much like El DeBarge. Michael Jackson was many things—talented, shrewd, a visionary—but he was absolutely ridiculous. Ask Bubbles.
However, being able to laugh at a figure you love doesn't blind you to the reality that, as with anything, there are limits. When Michael Jackson died in 2009, for once, it felt as if a man who had spent so much of his life appearing tortured had finally found peace. The cruel mocking of him went away. So did much of the needless speculation about his life — notably, the absurd, quickly debunkable stories associated with it. It seemed as if the request he made in the chorus of "Leave Me Alone" had finally been granted.
As a result, much of what has followed Jackson's story posthumously has centered on his art. There have been albums that have celebrated his legacy with works old and previously unreleased. There has also been the Cirque du Soleil show MJ One at Mandalay Bay in Las Vegas.
Unfortunately, the silliness has resurfaced thanks to the series Urban Myths, a comedy series in the United Kingdom centered on "celebrity tall tales." The show immediately caught flak last year when it was announced that Joseph Fiennes would be portraying Jackson in a story about a purported post-9/11 road trip taken by Jackson, Elizabeth Taylor and Marlon Brando.
G/O Media may get a commission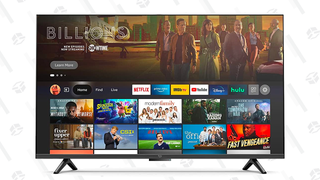 22% off
Amazon Fire TV - 50" Omni Series 4K - Early Access Deal
When asked about the casting, Fiennes argued in mighty-white fashion that race should not play a role in people's reactions.
"[Jackson] definitely had an issue—a pigmentation issue—and that's something I do believe," Fiennes explained to ET. "He was probably closer to my color than his original color."
Fiennes went on to add: "It's a light comedy look. It's not in any way malicious. It's actually endearing."
Yet the sight of Fiennes as Jackson in the trailer makes even the calmest Jackson fan want to reach for Papa Joe Jackson's old belt. Or, if you're his daughter, Paris Jackson, the visual "made her want to vomit," as she expressed on Twitter. "It angers me to see how obviously intentional it was for them to be this insulting, not just towards my father, but my godmother [Elizabeth Taylor] as well," she added.

As a result of the backlash, the episode will now not air on television. In a statement from the broadcaster published Friday, the network says:
We have taken the decision not to broadcast "Elizabeth, Michael and Marlon," a half-hour episode from the Sky Arts Urban Myths series, in light of the concerns expressed by Michael Jackson's immediate family. We set out to take a lighthearted look at reportedly true events and never intended to cause any offense. Joseph Fiennes fully supports our decision.
They're still clinging to that "lighthearted" defense, but Paris is right in asserting that their intentions were to be insulting.

Fiennes managed to one-up Flex Alexander in the contest of who can look the biggest fool in dressing up like Michael Jackson. They wanted spectacle, but more importantly, they wanted to venture back to the days of "Wacko Jacko." Comedy or not, cries of good intentions be damned, if one knew anything about Michael Jackson, it would be that he wouldn't want any part of this.

Nearly 25 years ago, Jackson told Oprah Winfrey that he did not want a white man playing him. That's why I don't care what Urban Myths purports to be.

From the story to the casting to the costume to the trailer, all of it looked fucking stupid. No one needed to see a white man who looks more like Johnny Depp in Edward Scissorhands portraying Michael Jackson. Thankfully, the episode has been pulled, but it was done without any apology.
To that end, I wish everyone involved the following: May the grease of Jermaine Jackson's fade fall on every person involved in the production for the rest of their lives. May the centipede Rebbie Jackson sang about multiply and actively stalk all parties involved. May the sound of Joh'Vonnie Jackson's voice haunt them in their dreams.

And once and for all, leave the man alone.