What does it mean to be in your prime? Whether you're an athlete or an artist, it's that window of time when all your best attributes and virtues are at the same level. When you're young, your raw talent and physical ability supersede your intelligence and lack of experience. Over time, said experience gets applied to your growing physical prowess, fine-tuning your intuition. You reach a zenith when your intellect, intuition, physicality and ambition all come together and you produce your greatest results.
The late Michael Jackson had no shortage of skill sets. His ability to sing, write, compose, produce, dance and perform, along with acute business acumen, led him to become the biggest-selling artist in music history.
While he was considered wise beyond his years as the wunderkind front man of the Jackson 5 starting in 1969, no one could foresee the heights that he would reach with his adult solo efforts—first 1979's Off the Wall and later 1982's Thriller. With the latter becoming the all-time biggest-selling album (an estimated 65 million copies worldwide, 30 million in the U.S.), you'd think that Jackson had reached his peak at that point, especially in hindsight.
Upon more thoughtful examination, however, his prime began on Aug. 31, 1987, when he released his album Bad, beginning a three-year span in which his vocals, songwriting, producing, performing and video output were just as good as the next. Problem is, this is an unpopular opinion. Although there is much evidence to support this view, there are also numerous reasons that it isn't shared by the general public.

---
It started with a challenge from Quincy Jones. "This is the one where I'd asked him to write all the tunes," Jones stated in an interview released for Bad's 1999 reissue. On Off the Wall and Thriller, Jackson had contributed three and four songs respectively. While his songwriting was already unique and evolved—evident in his work on the Jacksons' concurrent albums Destiny and Triumph—Jackson admitted in a 2007 interview with Ebony magazine that he and writer Rod Temperton had a "friendly competition" when it came to composing.
G/O Media may get a commission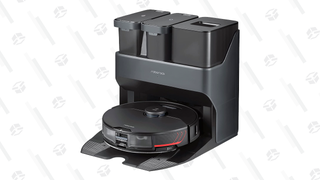 24% off
Roborock S7 MaxV Ultra Robot Vacuum and Mop
Temperton was a crucial member of the Jackson-Jones partnership. His six compositions on the two albums, including "Off the Wall," "Rock With You," "Thriller" and "Lady in My Life," were among the strongest of Jackson's catalog, and in addition to contributions from the likes of David Foster, Paul McCartney and Stevie Wonder, they undoubtedly drove M.J. to craft more complex and sophisticated songs, like "Workin' Day and Night," "Billie Jean" and "Wanna Be Startin' Somethin'."

Jackson would not have the luxury of measuring his songs against those for the Bad sessions. However, he was more than up to the challenge, choosing to compare himself with himself. Not only did he craft more than 65 original songs over the course of two years, but they were also more advanced than his prior production efforts.
During the early 1980s, Jackson began to branch out as a producer for other artists, most notably on Diana Ross' "Muscles" and sister Rebbie's "Centipede." While they became hits, the production was sonically primitive, at best, in comparison with the professional sheen that Jones had. (For context, listen to M.J.'s Captain EO version of "Another Part of Me" and Quincy's version that made it onto Bad.) For Bad, he set out to go toe-to-toe with his mentor. Their engineer, Bruce Swedien, was intensely impressed with the shape of the tapes that Jackson brought in to Jones, reflecting on it in Spike Lee's documentary about Bad: "Other artists would've been perfectly happy to accept a Michael Jackson demo as a finished record."

Jones wanted a "tough album" from Jackson to change his image and sound. He wanted Bad to have its own character, and felt that trying to compete with Thriller was "self-destructive and dishonest." Jackson, ever the paradox, partially agreed. In his 1988 autobiography Moonwalk, Jackson described the difficulty of crafting Bad with Jones, due much to the public's expectations: "You can always say, 'Aw, forget Thriller,' but no one ever will."
On the flip side, however, M.J. constantly wrote out the number 100,000,000 in red Sharpie marker on the mirrors of this home to remind himself of the goal he intended for Bad's sales. It was imperative for him to prove the world wrong again. He seemed to equate sales with public perception of greatness. Musical taste is subjective, but numbers don't lie.

The material of the album is high-caliber Jackson. "It's interesting for me to reflect on the Bad album, and I realize that I have more favorite songs on this album than on any other MJ albums," Swedien stated in his book In the Studio With Michael Jackson.
Indeed, Jackson's versatility as a songwriter was on full display, showcasing him at his most varied and imaginative. Writer Nelson George addressed the expansive nature of Bad's song craft in his book Thriller: The Musical Life of Michael Jackson: "Of the three Quincy Jones-produced solo albums, Bad is usually overshadowed by Off the Wall and Thriller. Yet song for song, it's probably the deepest of the Jones/Jackson trilogy."
Bad doubled down on the edge that was established on Thriller, both in subject matter and in instrumental arrangement. There were brooding lead bass lines on "Bad," "Speed Demon" and "Smooth Criminal"; the paranoia of "Billie Jean" grew to a fever pitch on the heavy metal opus "Dirty Diana"; and the rumormongering and celebrity claustrophobia hinted at in past songs like "Wanna Be Startin' Somethin'" were more fully realized in "Leave Me Alone," a delicious groove that combines the 6:8 time signature and clavinet-driven funk of Stevie Wonder with the wall-of-sound backing-vocal overdubs of Marvin Gaye. The "sonic fantasy" of "Liberian Girl" also made for one of Jackson's most singular and gorgeous creations.
Jackson's vocals throughout the 11 tracks were more malleable and complex than people were used to. His pleasant high tenor, rich with vibrato and melisma, was confident and bountiful on tracks like "The Way You Make Me Feel," "Liberian Girl" and "Another Part of Me." His more raspy, deeper, percussive tone on the title track, "Speed Demon" and "Smooth Criminal" illustrated his wish to make his voice a literal instrument in Jones' arsenal. The understated staccato and diction in "I Just Can't Stop Loving You" and the gospel fervor and reverb of "Man in the Mirror" offered proof that Jackson's emoting chops were on par with the likes of Gaye and Barbra Streisand.
The Bad campaign was unprecedented for its time. A CBS television special showcased the world premiere of the "Bad" short film—an 18-minute Martin Scorsese-directed piece that found Jackson addressing social ills of the black community in a way no one saw coming. Only a month later came the launch of a world tour that would stretch from September 1987 to January 1989. Jackson sold out shows on six continents; incited, by his own account, nearly 5,000 faints per gig; and earned $1 million every time he stepped onstage.
The electric majesty of his presence, the power in his vocals while he was summoning every atom of energy for his dancing, were simply incomparable. The succeeding videos for Bad were among his most celebrated, including "The Way You Make Me Feel," "Another Part of Me" and "Dirty Diana." His dynamic opening medley at the 1988 Grammy Awards of "The Way You Make Me Feel" and "Man in the Mirror" is among the most definitive television moments of his career, which is notable, considering the iconic moments he's given to the small screen over the years. His film Moonwalker, which premiered video treatments of "Speed Demon," "Leave Me Alone" (which won a Grammy for best video in 1989) and "Smooth Criminal," prompted a popular arcade game of the same name all over the country.

When the dust settled, his seventh solo album had sold 10 million copies domestically to date and yielded five No. 1 singles on the Billboard 100 ("I Just Can't Stop Loving You," "Bad," "The Way You Make Me Feel," "Man in the Mirror" and "Dirty Diana"), a record that has yet to be broken (although Katy Perry tied the record with her 2015 Teenage Dream album).
---
So why does Bad get a bad rap? Here are three main theories:

1. The Shadow of Thriller
Following up the biggest-selling album ever was a tall order, and anything other than a duplication of unit movements and awards would automatically list Bad as a failure. But let's be completely clear. As far as commercial success was concerned, Jackson was deceptively consistent. Because Thriller sold so many albums, it's easy to perpetuate the narrative that every album thereafter was a disappointment. Quite the contrary. Thriller is the anomaly that proves the argument.
With the exception of the 1982 blockbuster, all of Jackson's albums from 1979 to 1995 (Off the Wall, Bad, Dangerous and HIStory) sold in the 7- to 10-million range. If Thriller had had sales of 12 million to 15 million rather than 30 million nationwide, Bad would not have been seen as the disappointment that it was in the press. Thriller came at a miraculous intersection of cross-discipline synergy: seven top 10 singles, music-video innovation ("Billie Jean," "Beat It" and "Thriller"), Motown 25, the Victory Tour, a breakthrough marketing campaign. Since these occurrences constantly extended the album's shelf life, it's unfair to hold that against Bad. The campaign for Bad improved on all the aforementioned factors—consumer marketing, music videos, tour, TV specials—but what it lacked was the element of surprise that Thriller had.
2. Attack of the Media
Michael Jackson felt that being an elusive being would feed into his mystique. However, his eccentricities and growing rumors about his lifestyle—sleeping in an oxygen chamber, purchasing the Elephant Man's bones, traveling with a pet chimp—along with M.J. fatigue from the Thriller era, were beginning to negatively affect the media's perception of him.
Quincy Jones felt that Jackson's eccentricities fueled his creative process and couldn't understand why people were being so "myopic" about them: "It's like saying there's a cobweb in the ceiling of the Sistine Chapel." Major media outlets could scarcely hide their disdain. "This shift in public perception had a huge impact on the way Bad was perceived," wrote Joe Vogel, author of Man in the Music: The Creative Life and Work of Michael Jackson. "Many critics and consumers simply couldn't separate the music from the new image and sensational stories."
Although Rolling Stone magazine gave the album itself four out of five stars, its polls rated Bad and Jackson as "Worst Album," "Worst Male Singer," Worst Dressed Artist" and "Most Unwelcome Comeback" of 1987. People magazine's September cover story headline read, "Michael Jackson: He's Back. He's Bad. Is This Guy Weird, or What?" CBS anchor Ron Powers cynically referred to the Bad rollout as "media silliness" and a "festival of foolishness."

3. The Skin He's In
Most distressing was the drastic change in his appearance since Thriller, due to his lighter skin tone and plastic surgery. Because of his reclusive nature, and delay in disclosing his diagnosis of vitiligo to the public (via a 1993 live ABC interview with Oprah Winfrey), the alterations seemed far more dramatic to the general public, and the black community especially felt that he was turning his back on them. Accusations of skin bleaching and selling out became relentless.
That September, Village Voice writer Greg Tate summed up many people's state of mind in his scathing piece on Jackson and Bad following its release, entitled, "I'm White! What's Wrong With Michael Jackson." In it he cited his disdain for Jackson's new look, calling it "self-hatred" and "self-mutilation," and characterized a negative review of the album as divine retribution: "Proof that God don't like ugly, the title of Michael's new LP, Bad ... accurately describes the contents in standard English." Ouch.
Although M.J. truly had little control over his pigment-destroying disorder, to be fair, his tendency to push duality found him attempting to have it both ways: reassure others of his blackness with the imagery and nuanced sounds of Bad while also making himself a neutral symbol of global acceptance. "More than David Bowie, or Prince, Jackson became the most famous symbol of androgyny," Vogel wrote. "It made him increasingly impossible to define—or claim—by any group."

Perhaps some critics felt this was the only way to restore some of the darkness in his skin tone: by dropping trou and metaphorically wiping their backsides with Jackson and his album. However, had they been listening closely enough, and without prejudice, they would have noticed that although the melanin was leaving his skin, it was prevalent in his art more than ever. Elements of James Brown ("Bad," "Speed Demon") West Africa ("Liberian Girl"), gospel ("Man in the Mirror") and groove-laden funk ("Leave Me Alone," "Smooth Criminal") ooze through the speakers all over the 11 tracks. And when he does heavy metal ("Dirty Diana") and pop balladry ("I Just Can't Stop Loving You"), he isn't selling out but, rather, is reappropriating their origins in black innovation.

Final question: Can you call an album that sold over 35 million copies worldwide underrated? When debates about Michael Jackson's best albums happen, only Off the Wall and Thriller come up. There lies the hidden and definitive contradiction that drove the artistry and ambition of post-Thriller M.J.: Half of the world expected too much from him, while the other half underestimated him. That's how it was possible for the most popular musician in history to constantly have a chip on his shoulder. And 30 years after this album's release, and eight years since Jackson's passing, the whole world still has to answer right now: Who's bad?