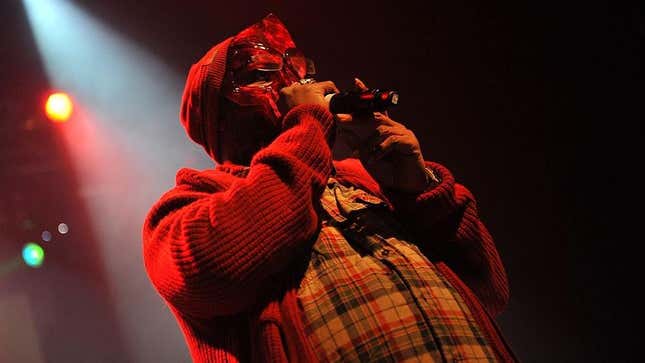 The life of MF DOOM was always one of mystery. Fans never saw his face and fans who attended his shows had no way of telling if it was really him behind the mask. Even his death, which the public did not hear about until months after it happened, still left many questions. And according to Leeds Live, during an inquest hearing, Jasmin Dumile Thompson, MF DOOM's wife, revealed the condition of the later rapper before he shockingly died on Halloween in 2020.
Tackling A Black Maternal Health Crisis & Embracing Reproductive Justice | The Root Institute
Born Dumile Daniel Thompson, DOOM was being treated in the fall of 2020 at St. James's Hospital in Leeds, England. He was in the hospital's care after he had an uncommon reaction to a blood pressure medication he was prescribed earlier in the year. The medication caused him to develop angioedema, a reaction that causes the swelling of the deeper layers of the skin, such as the throat, tongue, and lips. Mrs. Thompson also shared that her husband was dealing with a kidney disease, which led to him gaining weight and dealing with anxiety.
During the inquest hearing, Mrs. Thompson shared that her husband was unable to alert hospital staff about his worsening health due to the buzzer being out of his reach, according to Leeds Live.
She recalled her husband calling her, saying that he was unable to breathe and that the room where he was being treated was not up to date. She was unable to see him in person due to the COVID-19 restrictions at the time.
More from Leeds Life:
The inquest heard that on October 21 Daniel had complained that he couldn't breathe and tried to get off his hospital trolley before he collapsed and suffered respiratory arrest.

Mrs Thompson's legal representatives have raised questions about how often Daniel was checked by medical staff and why there was a two-hour delay in giving him medication for his swollen throat.

The inquest heard that Daniel's medical records could not be accessed in Leeds as they were held in London.
DOOM's doctors claimed that the Madvillainy rapper claimed that the swelling of his throat, tongue, and lips was a possible side effect of taking ACE inhibitors.
I'm not going to act like I know the minutiae of DOOM's death, but it's clear that his family was not happy about the care he was given while in the hospital. I understand that nearly everything about DOOM's life was a mystery, even his death. But it shouldn't have been for his wife. She's had to deal with so much after his death, including the rhyme books of her late husband being stolen.
She's had very little time to mourn and has had to focus on retrieving her husband's stolen belongings and discovering what led to his untimely death, which could've been preventable if he was provided with better care.